YouTube has introduced a new referral program for existing Youtube Premium subscribers which will allow them to use the service for free for up to twelve months by referring their friends. Keep reading to find out how you can get your referral link.
Starting today, the company is now showing subscribers an in app prompt which says: ''Invite a friend to try 3 months of Premium for a special discount. When they sign up with your unique link, your next month is free of charge!''
For each person who becomes a paying subscriber using a referral link, referrers will get a free month while the new subscriber will be able to use the service for three months for a total of $0.99 (might vary in different countries using different currencies), instead of paying $11.99 each month.
The company said that referrers will be able to receive discounts for up to twelve friends who become paying subscribers, which means they have a chance to use the platform for free for up to a year. Meanwhile, the referral program will continue until May 2023.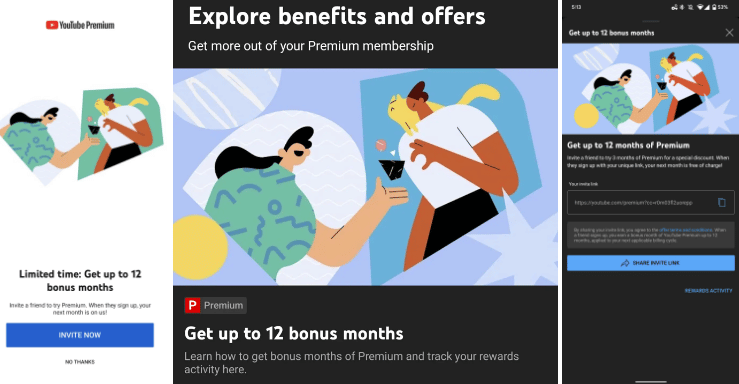 How to get your YouTube Premium referral link
According to the YouTube Premium referral program terms page, YouTube Premium users will be able to get their unique referral link directly from their YouTube Premium account.
Then they will be able to share it through SMS, social media, email and other methods. YouTube warns that subscribers must get their friends' consent before sharing referral links with them. In addition, the company said the links shouldn't be posted publicly on social media.