As its Chinese owner ByteDance attempts to take advantage of the popularity of the social media app, TikTok is now officially launching its e-commerce product, TikTok Shop, in the U.S.
With tools for content producers, brands, and merchants to generate shoppable content, TikTok's more than 150 million US users will now be able to see videos and live broadcasts with links to buy things on their For You feed.
"TikTok Shop empowers brands and creators to connect with highly-engaged customers based on their interests, and it combines the power of community, creativity, and commerce to deliver a seamless shopping experience," the company said in a blog post announcing the launch.
TikTok Shop includes features such as in-feed video and LIVE shopping to shop directly from videos and LIVEs, product showcase to browse products and read reviews, and a dedicated shop tab businesses display their products on a new product marketplace.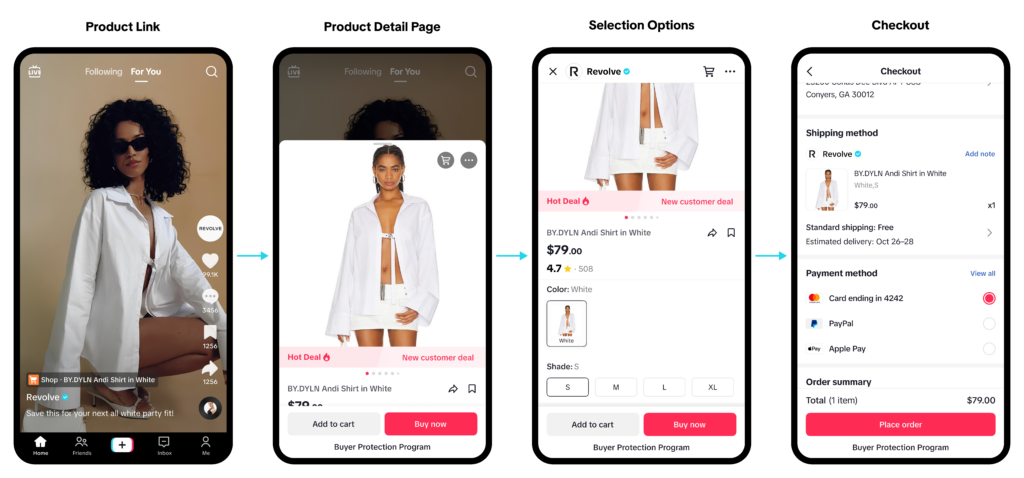 The new feature also offers Shop Ads which allow sellers to promote their TikTok Shops so that customers can discover and complete purchases all within the platform. It also includes an affiliate program to let creators connect with sellers through new commission-based product marketing opportunities. "Creators have a new way to monetize their creativity by sharing products in short videos and livestreams, and sellers can choose the Affiliate plan that's the right fit for their brand," TikTok says.
In addition to letting businesses host their products on the popular social media platform, TikTok also offers secure checkout options and logistics services under the "Fulfilled by TikTok".
To offer shopping options for businesses, TikTok and Shopify have been working together for a while. The platform also offers direct integrations and connectors with WooCommerce, Salesforce Commerce Cloud, BigCommerce, and Magento.
TikTok is also partnering with multi-channel platforms including Channel Advisor, Feedonomics, Productsup, Pipe17, GoDataFeed, SellerCloud, Linnworks, ChannelEngine, ShoppingFeed, and Cymbio.
For streamlined e-commerce operations, creators and sellers can select from a number of apps, such as Zendesk, Gorgias, and 1440 for customer service, Printful, Printify, and NovaTomato for products with print-on-demand capabilities, Yotpo for reviews, and WeeBee, Flowspace, and Easyship for shipping.
Thailand, Vietnam, Malaysia, the Philippines, Singapore, and the United Kingdom are just a few of the countries that provide TikTok's online marketplace, which has apparently been in development in the United States since November.