According to a new report by the Federal Trade Commission, the largest reported loss in romance scams in 2021 was paid in cryptocurrency, with $139 million.
The total amount of money lost to romance scams last year was a record $547 million, up nearly 80% compared to 2020. The median individual's loss reported in 2021 was $2,400, the FTC said.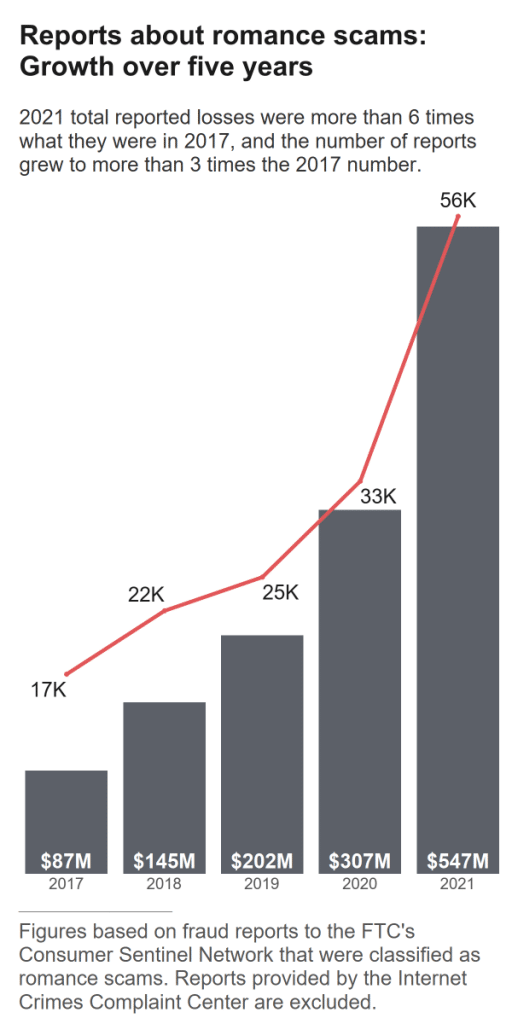 While many people with scam experience reported being contacted on dating apps, more than a third of those who said they lost money to an online romance scam in 2021 said it started on Facebook or Instagram.
Romance scammers generally create fake online profiles with attractive photos. Sometimes they even assume the identities of real people.
"They may study information people share online and then pretend to have common interests. And the details they share about themselves will always include built-in excuses for not meeting in person. For example, many reportedly claim to be serving overseas in the military or working on an offshore oil rig." the FTC says.
Per the report, the growth in cryptocurrency payments to romance scammers is remarkable: 2021 numbers are nearly five times those reported in 2020, and more than 25 times those reported in 2019. In 2021, the median individual reported loss using cryptocurrency was a staggering $9,770.
"People are led to believe their new online companion is a successful investor who, before long, casually offers investment advice. These so-called investment opportunities often involve foreign exchange (forex) trading or cryptocurrency. And when people follow this investment "advice," they wind up losing all the money they "invest."," the FTC said.
The report also notes that reports of romance scams increased for all age groups in 2021, though the increase was most notable for those aged 18 to 29. For this age group, the number of reports increased more than tenfold from 2017 to 2021. However, the median reported loss increases with age: people 70 and older reported the highest individual median losses at $9,000, compared to $750 for the 18 to 29 age group.