Online game creation platform Roblox Corporation has released its financial results for the second quarter of 2021.
In Q1, the California-based company had reported a revenue of $387 million with a 140% year-over-year growth. It managed to maintain this growth in Q2 and its revenues increased by 127% Y/Y to $454.1 million during the three months ended June 30, 2021. 
Nevertheless, the company's net loss grew 95% from $71.5 million reported in Q2 2020 to $140.1 million at the same time.
Roblox bookings increased by 35% Y/Y to $665.5 million, failing to meet analysts' expectations of $683.3 million.
Meanwhile, the company's net cash flow from operations and free cash flow both reached new highs, growing 64% Y/Y to $191.2 million and 70% to $168 million respectively.
In addition, average daily active users rose 29% to 43.2 million and hours spent in Roblox rose 13% to 9.7 billion in the second quarter of 2021.
---
Also Read: Roblox Revenue and Player Stats (2021)
---
The company said that the growth in both the average number of DAUs and playtime was largely driven by the growth in the number of active users in the United States and Canada as well as the increasing number of users over the age of 13.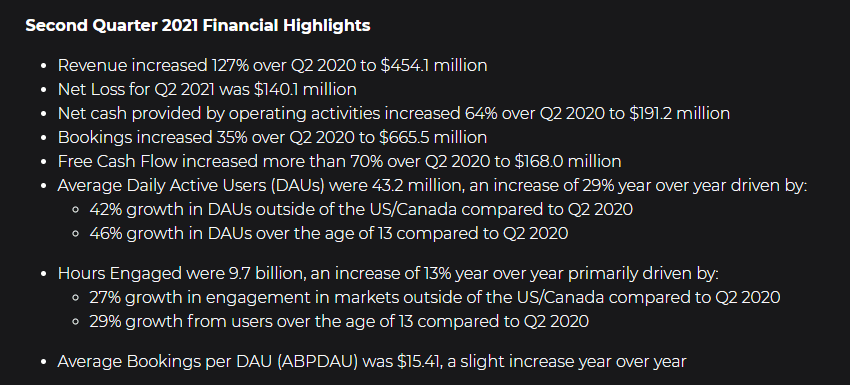 "Our continued growth demonstrates the importance of our mission and the power of our platform," said Roblox CEO David Baszucki, in the company's press release. "These results are fueled both by our creator ecosystem and by the millions of people around the globe who want to connect and share new experiences every day on Roblox."
"In the quarter ending June 30, 2021, cash from operations and free cash flow continued at record levels. The third quarter is off to a strong start with our highest levels of users and engagement to date," said Roblox CFO Michael Guthrie. "We will continue to invest in our developer community, hire top engineering talent, and build out the infrastructure required to scale Roblox globally."