Instagram has made changes to its algorithm after the company was accused of censoring pro-Palestinian content shared on the platform. 
Previously, Instagram's algorithm prioritized original content in Stories over Stories that re-share posts from other users. As reported by Financial Times, two people familiar with the matter said that the platform will rank them equally. 
"Stories that re-share feed posts aren't getting the reach people expect them to, and that's not a good experience," an Instagram spokesperson told Insider. "Over time, we'll move to give equal weighting to re-shared posts as we do originally-produced stories."
The spokesperson said that the algorithm "caused people to believe we were suppressing stories about particular topics or points of view," and that it's not true. "This applied to any post that's re-shared in stories, no matter what it's about," he added.
BuzzFeed News recently reported that 30 Facebook employees, which Financial Times reported Sunday that later rose to 50, filed internal appeals to restore pro-Palestinian content that they believe was ''improperly blocked or removed'' amid the Israeli–Palestinian conflict. 
Last month, the company also received negative reaction after accidentally removing posts and hashtags related to the al-Aqsa Mosque as ''the platform associated its name with a terrorist organization.''
Meanwhile, BuzzFeed News also reported that a Facebook software engineer from Egypt sent an open note to his colleagues in early May saying that the company is ''losing trust among Arab users."
He also sent a screenshot of Gaza Now which is a verified Facebook page and has over 4 million followers. When you like the page, Facebook shows you a discouraging pop-up which says, "You may want to review غزة الآن – Gaza Now to see the types of content it usually shares."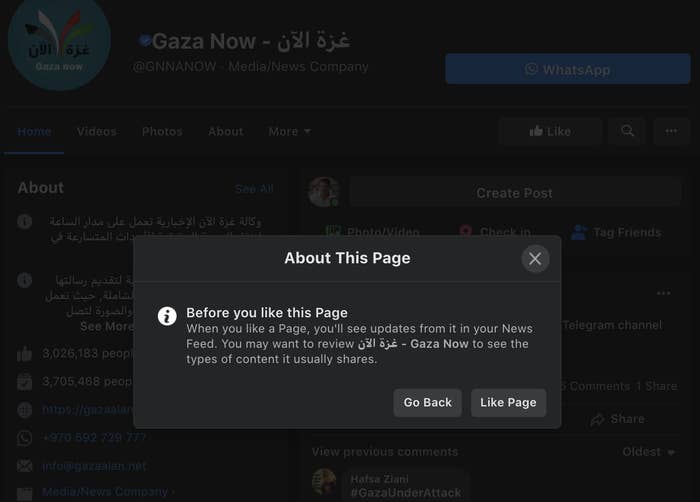 Last week, NBC News reported that Facebook contacted Apple and Google last month to remove negative reviews on the app stores due to the 1-star campaign started by Pro-Palestinian activists. NBC said that Apple refused the request. 
"We know there have been several issues that have impacted people's ability to share on our apps," a Facebook spokesperson told BuzzFeed News.
"While we have fixed them, they should never have happened in the first place and we're sorry to anyone who felt they couldn't bring attention to important events, or who felt this was a deliberate suppression of their voice. This was never our intention — nor do we ever want to silence a particular community or point of view," he added.