Search engine giant Google is testing a new feature which displays short videos from TikTok and Instagram in its own dedicated carousel available in the Google app for mobile devices, allowing users to search for video entertainment directly on Google's platform. 
The tests of the feature began earlier this year when Google introduced the Short Videos carousel within Google Discover where users are offered a personalized feed based on their interests and previous searches, available in the Google app and also to the left of the home screen of some Android devices.
Meanwhile, the new feature differs from Google's Web Stories which the company launched 2 months ago for both Android and iOS. While Web Stories, previously known as AMP Stories, offer users short videos from the publishing partners of Google including Forbes, Vice, Refinery 29 and many more, Google's new Short Videos carousel will display short videos from social media channels including TikTok, Instagram, India-based TikTok rival Trell, Youtube which has been testing the short video concept for a while and also Google's short video app Tangi.
The expansion of the Short Videos carousel was first reported by Search Engine Roundtable (via Brian Freiesleben's tweet). They made a search on the Google app using the ''Packers'' keyword and were able to view the carousel.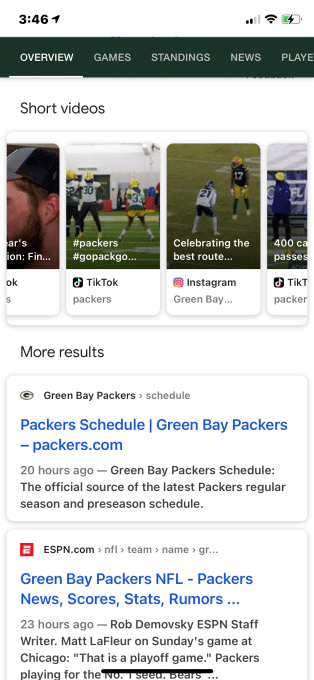 As reported by TechCrunch, Google declined to make a comment regarding its future plans about the new feature. However, a Google spokesperson confirmed that the carousel is currently being tested for mobile devices and said it is an early-stage feature.