European tech is firmly positioned as a global player in 2021, with a record $100 billion in capital investment, 98 new unicorns and its strongest ever startup pipeline currently on par with the US, according to a report from London-based venture capital firm Atomico.
European startups are on track to raise a record $121 billion in funding this year, around three times the $41 billion in capital raised in 2020, according to the data. European start-ups raised more than $100 billion in one year for the first time.
The total estimated enterprise value of European tech companies in 2021 is $3T.
Atomico found that ​​investment growth in 2021 in the region was largely driven by bigger rounds ($250M+), which grew by a factor of ten in the last 12 months. They now represent 40% of the total capital invested in Europe.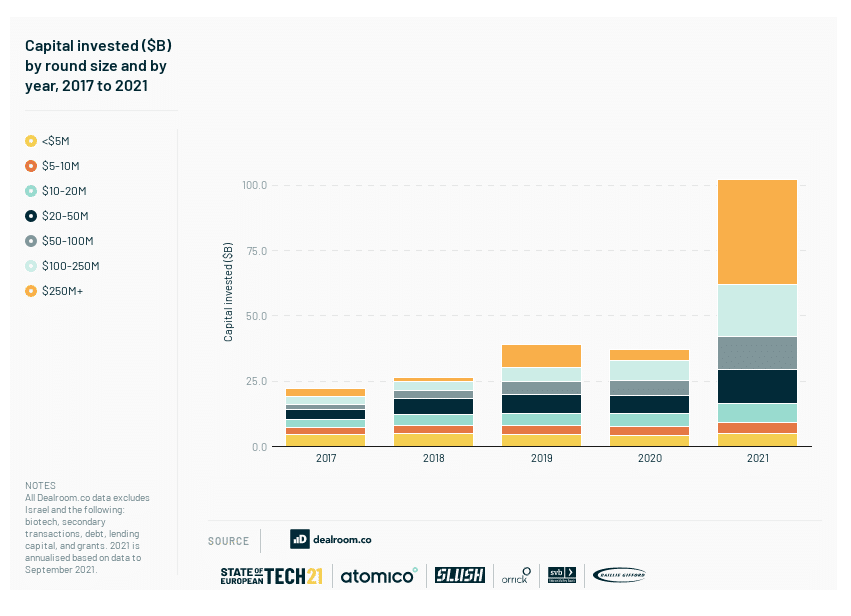 The decacorn herd, with a valuation of $10B or more, also doubled in size so far this year: 26 European companies now hold that status, including Klarna, Revolut, and Checkout.com. The funnel of future decacorns is also promising, with 30 companies currently valued between $5-10B, and another 54 valued in the $2-5B range, Atomico says.
Still, US capital markets remain more attractive for IPOs, with 36% of European tech unicorns established since 2015 traded on US stock exchanges.