Compared to any other region in the world except for Silicon Valley, Sweden has bred more tech unicorns including music streaming company Spotify and Minecraft-maker Mojang AB per capita, as reported by Bloomberg.
According to European venture capital firm Atomico's recent report, the country ranked No.1 in the European region in terms of cumulative capital invested per capita in the previous five years.
Earlier this month, Swedish FinTech company Trustly Group AB became the country's latest unicorn and the company's CEO Oscar Berglun said he thinks this is not a coincidence that so many unicorns are emerging in the Nordic country.
"There is some kind of climate here where Swedes are quick to test new services and products," said Berglund. "It's like there's an ecosystem of funding and expertise."
Some other examples include Norrsken, the co-founder of the fintech company Klarna Bank AB which last month said it raised $1 million at $31 billion, and Atomico which was founded by Skype co-founder Niklas Zennstrom.
"At 0.8 per 100,000 inhabitants, Stockholm currently has the highest number of tech unicorns per capita in the world except for Silicon Valley," said Sarah Guemouri during an interview, who is the co-author of Atomico's State of European Tech report.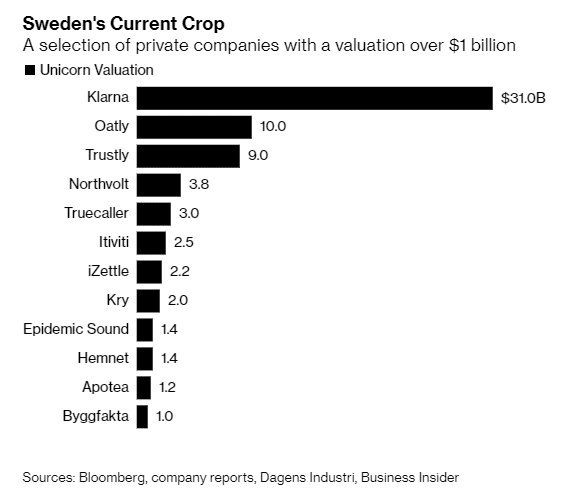 Martin Lorentzon, Spotify co-founder who is known to have put money into Cervantes Capital AB said: "I see great opportunities to invest in Swedish small and medium-sized companies, Sweden has fantastic entrepreneurs and good corporate governance''
As reported by data provider Dealroom.co, Sweden attracted $3.5 billion dollars (2.9 billion euros) in venture capital in 2020, and $2.2 billion (1.8 billion euros) so far in 2021.
In addition, after London and Paris, Stockholm was Europe's third biggest tech hub in 2020. The Top 5 also includes Berlin and Munich.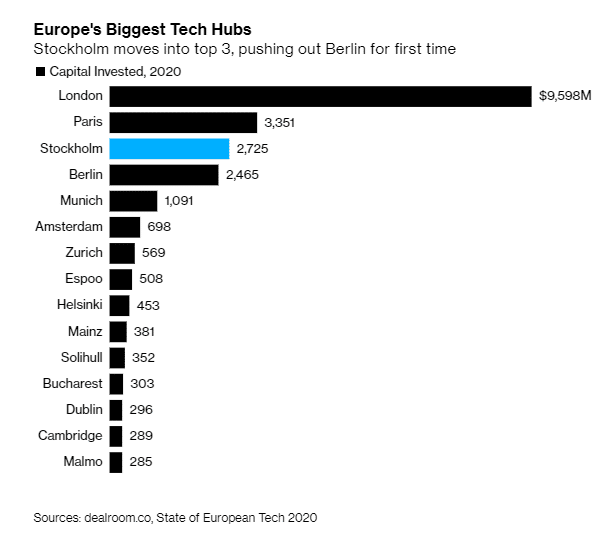 Early-stage investor Par-Jorgen Parson said that 'low cost of talent' and 'loyalty to business goals' are also among the main reasons why Sweden has proved fertile ground for unicorns such as Spotify and Mojang AB.