According to Pathmatics by Sensor Tower data, Consumer Packaged Goods (CPG) ad spending between January through September in 2022 reached $4.3 billion, down 21% when compared to the $5.4 billion spent in the year-ago period. 
A record spike in COVID-19 cases due to the Omicron variant challenged the CPG supply chain and resulted in worker shortages throughout 2022. With the exception of Baby & Toddler, other CPG subcategories decreased their ad budget year-over-year, per the report. Food & Beverages, in particular, shrank its ad spend by $700 million year-over year in the first nine months of 2022 to $2.5 million.
Social channels accounted for 77% of CPG's total ad spend in the US. In particular, CPG advertisers in the US invested 64% of their advertising budget on Facebook and Instagram alone (33% on Facebook and 31% on Instagram).
CPG accounted for 12.6% share of overall ad spend in the United States, followed by Retail with 10.3 and Media with 7.2%.
CPG ad spending showed a similar trend as summer approached in the U.S., U.K., Canada, and Germany due to the launch of summer themed campaigns. While CPG advertisers in North America slightly increased their ad spending in June 2022, CPG ad spending in the U.K. and Germany surged by 24 percent and 32 percent, respectively.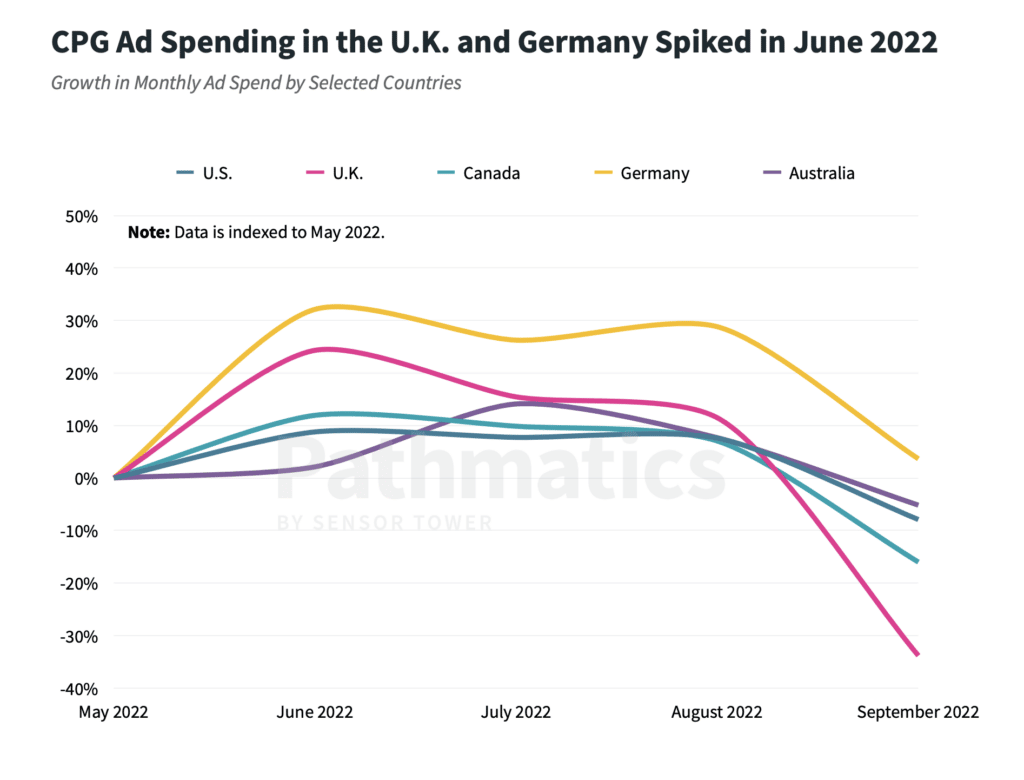 However, CPG ad spending in these four countries declined month-over-month since their peak in June. With the exception of Germany, CPG ad spending in the other three countries in September was between 8 percent and 34 percent lower than in May 2022.