Forex (FX) is an abbreviation for "foreign exchange" and refers to currency trading. Recently, forex platforms have included commodities in addition to currencies. The forex market is the largest and most liquid market in the world. Because forex is a type of trading that requires constant updates, forex traders want quick access to up-to-date market news and trading platforms, but not every forex app can fully provide it. As a result, we reviewed forex trading apps and selected the best forex trading apps for you!
XTB – Online Trading
Price: Free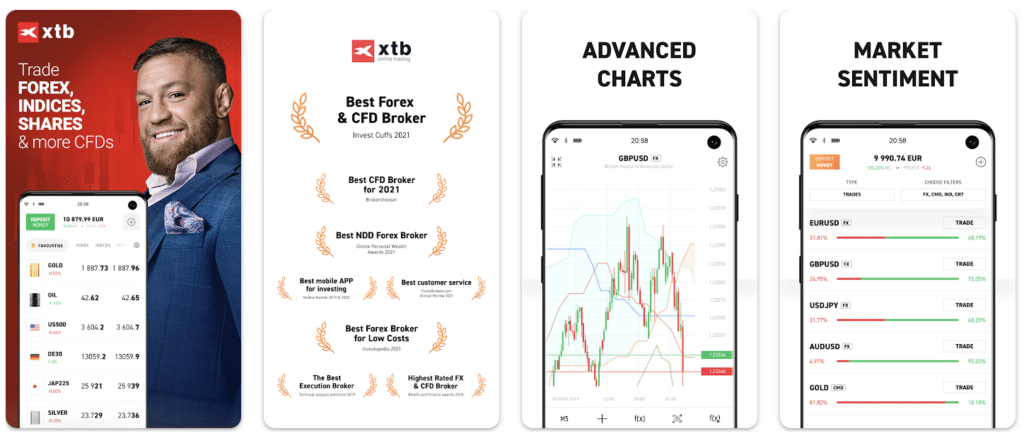 XTB is a global brokerage firm established in 2004 and overseen by supervisory authorities such as KNF, CYSEC, and Financial Conduct Authority. XTB works with over 657,000 merchants worldwide and is a publicly-traded company. XTB mobile app provides trading services on over 2100 instruments including Forex, Indices, Commodities, Cryptocurrencies Stocks, and ETFs.
Furthermore, the app includes a trader calculator feature, which allows users to calculate the margin, pip value, risk amount, and other details for their investments. Advanced charts, various chart types, technical analysis, drawing tools, and more than ten indicators are all included in the app. Users of XTB have access to fantastic features such as price alerts, market news and analysis, market sentiment, and an economic calendar. Users can practice with $100,000 in virtual funds in the app's free demo account and improve their skills with the app's extensive video tutorials. Visit XTB's website for more detailed information.
XTB – Online Trading on Google Play
XTB – Online Trading on the App Store
AvaTrade: Forex & CFD Trading
Price: Free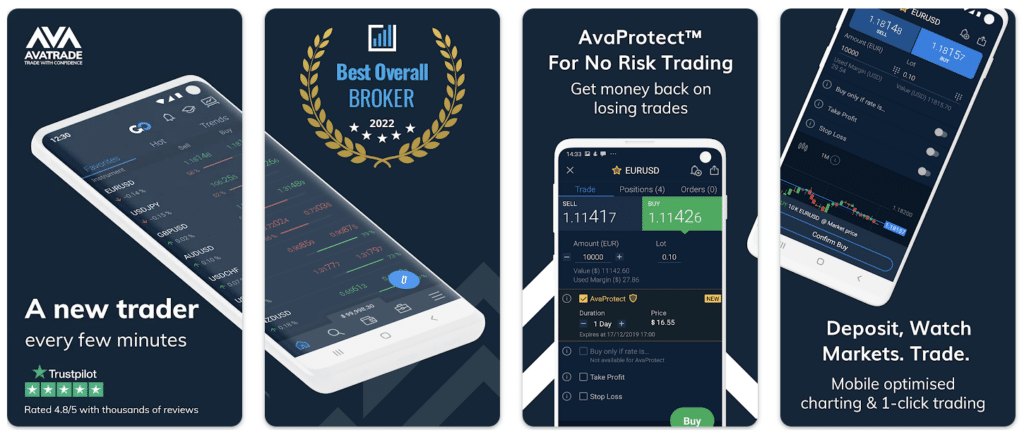 AvaTrade: Forex & CFD Trading is among the best forex trading apps because it allows you to manage all of your Metatrader accounts in one place.
AvaTrade users can effortlessly execute their business transactions with no commission. The app includes the entire MetaTrader package (MT4 and MT5) as well as up to 30:1 trading leverage.
With the app's free forex trading account, users can practice and improve their trading skills without risk. AvaTrade provides users with real-time feeds on social trends and CFDs to keep their knowledge current as they improve their knowledge.
In addition, AvaTrade offers trade instruments such as over 50 forex pairs (EUR-USD, USD-JPY, GBP-USD), over 500 different stocks from various markets, over 20 Indices (S&P 500 and Nasdaq), and over 50 highly liquid ETFs.
AvaTrade: Forex & CFD Trading on Google Play
AvaTrade: Forex & CFD Trading on the App Store
---
Also Read: The 5 Best Investment Apps for Beginners
---
Pepperstone cTrader
Price: Free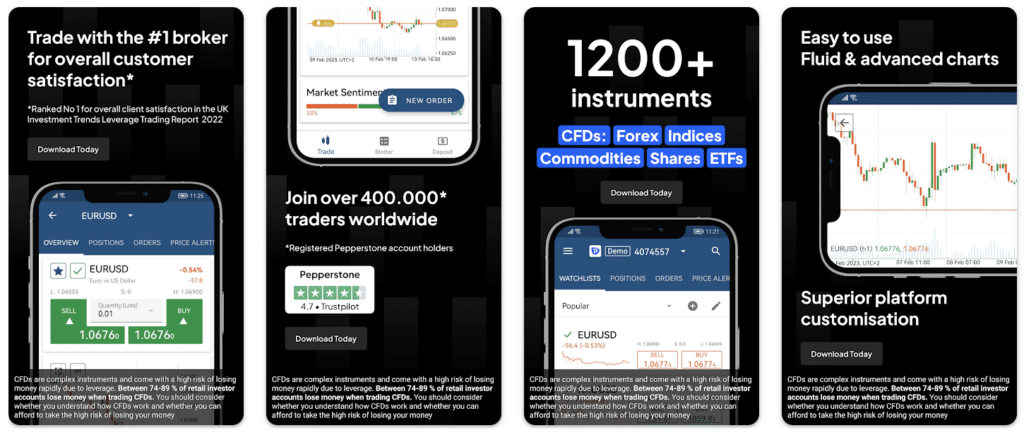 Pepperstone cTrader is a terrific mobile trading app and is one of the best forex trading apps. The app can be accessed using a Google account, a Facebook account, or a cTrader ID. With Pepperstone cTrader, users can reach detailed symbol information and understand easily the assets they are trading. The app includes four chart types, five chart views, eight chart plots, and 65 technical indicators, as well as fluid and responsive charts.
Moreover, Pepperstone cTrader allows users to manage all trading accounts and activities in one place, such as buying and selling global assets in Forex, Metals, Oil, Indices, Stocks, and ETFs. The app includes Push and Email Alert Configuration to keep users up to date on commercial developments around the clock. With Pepperstone cTrader, users can access trading statistics and receive price alerts. Check out the website of Pepperstone cTrader to learn more about the app.
Pepperstone cTrader on Google Play
Pepperstone cTrader on the App Store
OANDA – Forex & crypto trading
Price: Free
OANDA is a simple, functional mobile trading app with an easy-to-use interface. OANDA allows users to trade cryptocurrencies like Bitcoin, Bitcoin Cash, Ethereum, Litecoin, and Pax Gold without having to format their transactions. The app is only available to customers in the United States. Users can use OANDA to access risk management, position management, real-time profit tracking, trade execution, charts, over 50 technical tools (32 overlay indicators, 11 drawing tools, and nine chart types), and more. The app offers trading services on popular forex pairs such as EUR/USD, USD/CAD, USD/JPY, AUD/USD, and GBP/USD, and it helps users save money by offering forex spreads as low as 0.0 pips.
OANDA – Forex & crypto trading on Google Play
OANDA – Forex & crypto trading on the App Store
---
Also Read: Robinhood Alternatives: The Best Stock Trading Apps
---
IG Forex: spot FX trading
Price: Free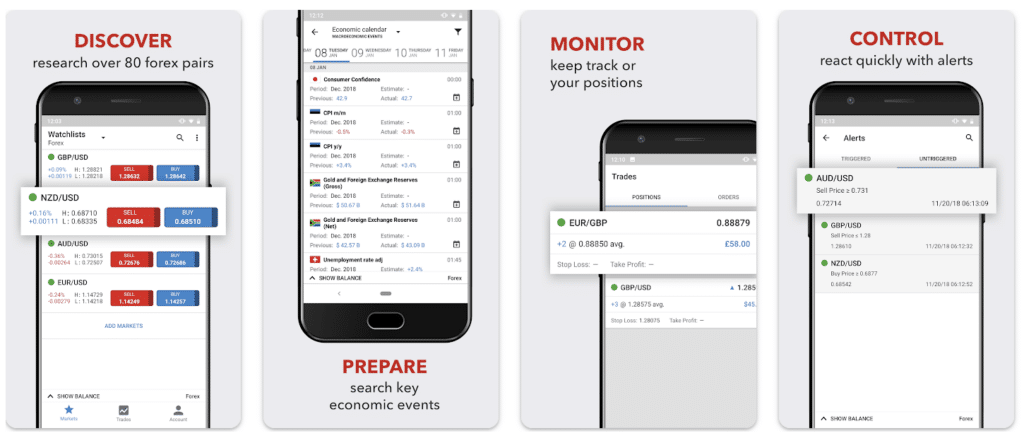 web: https://www.ig.com/us/trading-apps
IG Forex is a user-friendly forex trading app that allows you to trade from anywhere at any time and stands out among the best forex trading apps. IG Forex allows users to create watch lists to closely monitor the markets they choose. Users can conduct in-depth analysis and use a variety of indicators and charts with IG Forex. IG Forex allows you to split the charts by up to four to compare timeframes more easily, and it also allows you to trade directly from the charts. Users of IG Forex can monitor what others are trading and set trading alerts.
Additionally, IG Forex allows users to trade major currency pairs such as EUR/USD, GBP/USD, and EUR/JPY, as well as minor currency pairs. Users can quickly select from over 80 global spot forex markets while saving money thanks to low margins and no commissions. Users can use the app to access DailyFX's expert market commentary and hone their trading skills with IG Academy.
IG Forex: spot FX trading on Google Play
IG Forex: spot FX trading on the App Store