Malware, Trojans, eavesdroppers, trackers, and thieves – all pose serious threats to your smartphone. Despite being mainstream for almost a decade now, these problems have only become worse. So, in addition to your device's internal security options, it's wise to have cybersecurity apps that can help safeguard against hackers and other criminals.
To help you choose the best ones for your individual needs, we've done the research and handpicked the best cybersecurity apps. You don't need all of them, just pick the ones that suit you best and protect your phone from cyber threats.
Avast Mobile Security
Looking for reliable protection for your Android phone? Look no further than Avast. This free antivirus is a trusted way to keep your device safe from viruses and spyware that threaten your privacy. And with a near-perfect detection rate for malware discovered in the last four weeks, you can browse with confidence knowing Avast has your back. If you want to prioritize cybersecurity and safe browsing, Avast is a must-have app.
SpamTitan Email Security
SpamTitan Email Security is a powerful program that protects against email phishing threats. It features advanced AI and double AV-driven URL detection tools to block malicious attacks, including spear and whaling phishing. Primarily designed for schools, managed service providers (MSPs), and businesses, this spam filtering solution effectively prevents viruses, malware, spam, ransomware, and other email threats. It can be deployed on-premises or in the cloud for ultimate convenience and protection.
Google Play Protect
Google Play Protect is a vital security feature integrated into Android devices with Google Mobile Services. It guards against malware by thoroughly inspecting apps before allowing installation or update. The app automatically scans all installed apps and notifies users if any threat is detected. It also checks before downloading, ensuring only safe apps make their way onto the device. With advanced algorithms that learn and adapt to new threats, Google Play Protect stays up-to-date and effective safeguards against the latest malware.
VeePN
Among the apps to install now, VeePN stands out as a reliable solution for protecting against most types of cyber threats on the Internet. You can install the VPN extension in your browser on your PC or install the application for Android, or iPhone. The peculiarity of VPN for Chrome is that it does not affect application connections, only connections within the browser. The smartphone app encrypts all connections. Thanks to IP address spoofing, you can access any website in the world, regardless of its regional restrictions. Another useful feature of the cybersecurity software app is the ability to bypass bans. For example, if you need an unbanned Omegle, just switch to another server inside the VPN and you can bypass the blocking system. A VPN has many uses, making it useful not only for protection but also in everyday life.
Malwarebytes
Protect your Android devices from ransomware, malware, and other dangers with Malwarebytes' top-notch security. Our advanced software quickly identifies and eliminates harmful threats, keeping your device safe and secure. For added peace of mind, Malwarebytes offers real-time protection while using the Chrome browser and scans for the trickiest phishing URLs. Plus, you'll receive prompt alerts if anything out of the ordinary is detected. Trust Malwarebytes to keep your Android device safeguarded.
LastPass
Managing multiple online accounts with different passwords has become a daunting task. But fear not, LastPass is here to make your life simpler. As one of the top password managers available, LastPass offers advanced security features to safeguard all your login credentials. Say goodbye to the burden of remembering multiple passwords and embrace the convenience and security of LastPass.
SecurityAnywhere
Protect your Android device with our advanced antivirus and malware software that defends against a wide range of threats, including Trojans, keyloggers, phishing, spyware, backdoors, rootkits, zero-day attacks, and advanced persistent threats. Identity & Privacy Shield keeps your personal information safe while browsing the internet, and the outbound firewall stops viruses from stealing your data. Plus, a cloud-based security system automatically updates your device, so you'll never have to worry about manually performing updates again. Keep your device secure with a cybersecurity app.
DriveStrike
Protect your lost, stolen, retired, or missing devices and data with DriveStrike. Our easy-to-use cyber security software empowers users to safeguard their devices, preventing data compromise. Ideal for professionals, schools, businesses, organizations, and individuals who value privacy and security. With cloud-based solutions, DriveStrike helps you stay compliant and secure. It offers activity tracking, monitoring, archiving & retention, application security, audit management, audit trail, and policy management. Join thousands of satisfied users who trust DriveStrike for their device and data protection needs.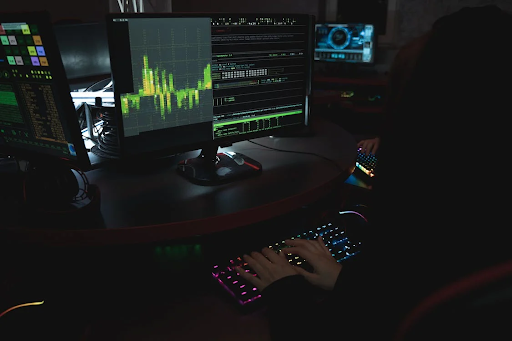 Resilio Sync
Looking for a reliable app for file transfer and synchronization? Look no further than Resilio Sync (formerly BitTorrent Sync), offered by Resilio Inc. This powerful app uses a modified version of the BitTorrent protocol to sync files between a variety of devices, including Windows, Mac, Linux, Android, iOS, Windows Phone, Amazon Kindle Fire, and BSD.
But that's not all – Resilio Sync offers automatic synchronization of files, making it easy to share and collaborate on documents, photos, and other important data. And when it comes to security, Resilio Sync has you covered with end-to-end encryption for peace of mind.
Acronis Cyber Protect Cloud
Acronis Cyber Protect Cloud is a cutting-edge cyber security tool for service providers to deliver top-notch protection against online threats in a secure, efficient, and effective manner. This software integrates a powerful blend of backup, next-generation AI-based antiviruses, endpoint management solutions, and antimalware solutions all in one package.
Discover the ultimate solution for managing cybersecurity, data protection, and endpoint management in one centralized platform with Acronis. This cutting-edge tool simplifies backup and recovery of critical data, such as contacts, photos, calendars, and videos from mobile devices. Plus, Acronis seamlessly integrates with your existing PSA and RMM systems. Its powerful capabilities also include full-disk backup scanning to identify and eliminate malware and other harmful threats on Android devices. Feel confident that your data is always protected with Acronis.
Conclusion
These are just a few of the many cyber security tools available. With the ever-evolving threat landscape, it's important to stay ahead of the curve and protect yourself with the latest technology. Whether you're an individual looking for basic protection or a business seeking comprehensive cyber security solutions, there is an option that can fit your needs.