Hello to everyone! I'm Maya. In our Hot Apps category, we continue to review and introduce the most trending apps on the market. So far, we've talked about over 50 mobile apps such as Nike Training Club, Hangouts Meet, Ulta Beauty, Hill Climb Racing, and Shpock. In today's post, we will talk about an Android game that will take you back to your childhood: SpongeBob – Krusty Cook-Off.
What is SpongeBob – Krusty Cook-Off?
Mobile gaming use continues to grow rapidly due to Coronavirus lockdowns. Smartphone users staying at home now have more free time and they usually spend this time playing mobile games. And, SpongeBob – Krusty Cook-Off is one of the most trending Android apps right now.
It was developed by Tiltin Point and has been available on the Google Play Store since April 2, 2020. In about a month and a half, it has been downloaded by more than 1 million Android users, becoming one of the best gaming apps on the platform.
So, how to play SpongeBob: Krusty Cook-Off?
Your goal in Spongebob Krusty Cook-Off is to be the best cook in Bikini Bottom. In addition to Spongebob, there are many characters in the game, such as Patrick, Mr Krabs, Squidward and Sandy.
Start the game by cooking delicious pancakes knowns as Krabby Patties. Offer your guests a professional experience and earn money. As you earn money, you can buy new items, change your characters' clothes and design your restaurants in Bikini Bottom.
There are hundreds of levels and you will want to play it more as you level up. The graphics are pretty good and the background music will make you feel like you're watching SpongeBob.
Top App Rankings
As of May 15, 2020, it has managed to make it to the top 10 in Overall in many countries including the United States, Germany, Mexico, Poland, Slovakia, Belgium, Austria, Finland and the Czech Republic. You can view the details in the table below.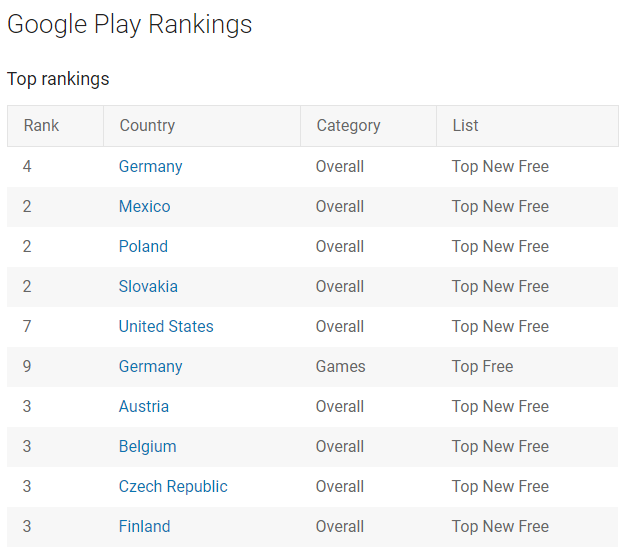 User Ratings & Reviews
Currently, the game has 38,102 app ratings in the United States. The average rating is 4.2 which is pretty good for a newly released game.

App Requirements
You can play it for free. It contains ads and offers in-app purchases.
For now, it only supports English. The app size is 88M and requires a minimum of Android 5.1.
Get It On Play Store
Click here to download it for free from the Google Play Store.
If you need support, you can visit tiltingpoint.com or send an email to spongebobsupport@tiltingpoint.com.
Do not forget to share your comments with us and our visitors, if you have played it before. Our Hot Apps page has dozens of trending Android and iOS apps that we talked about before. Don't forget to check them out!
If you have a mobile application, you can contact us to get it featured on our website.