Baby Shark song, which entered our lives in 2018, received 7.06 billion views and became the most watched content of all time on YouTube, surpassing Luis Fonsi and Daddy Yankee's global hit Despacito.
Recorded and uploaded by the South Korean education company Pinkfong, Baby Shark has literally captured the children's world. It is worth noting that Pinkfong is a subsidiary of SmartStudy, one of the giant companies in South Korea. Pinkfong stands to have made about $5.2m (£4m) from YouTube streams alone, according to the BBC.
---
Also read: YouTube Revenue and Usage Statistics (2020)
---
When we look at the top 5 most viewed videos on Youtube, we see that there is another content for children in the list. The Russian cartoon Masha and the Bear is on the list right behind Ed Sheeran's Shape of You and See You Again by Wiz Khalifa and Charlie Puth.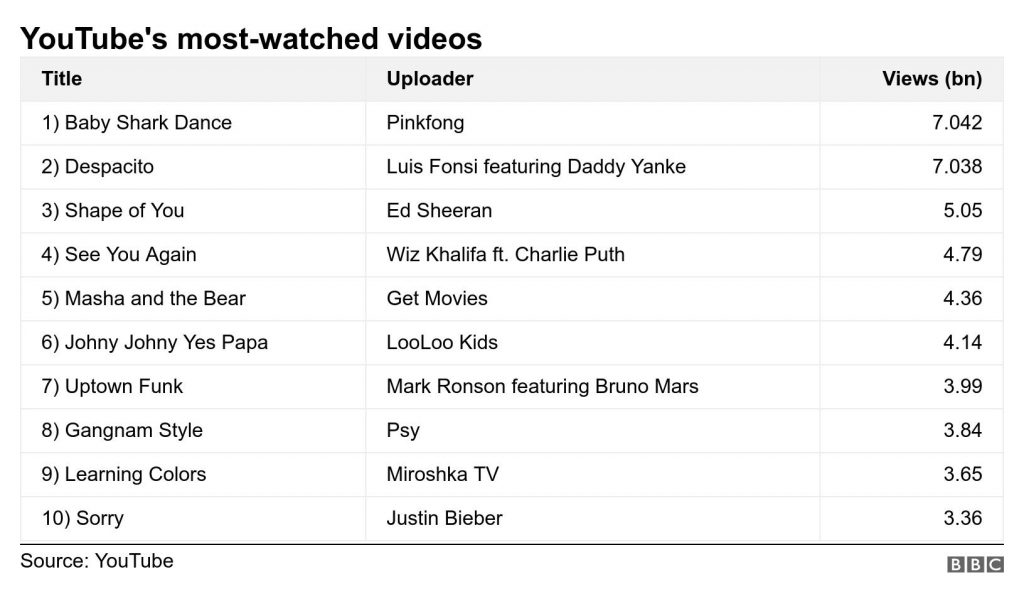 "Without the love and support of fans around the world, Baby Shark's new record would have been impossible," said Min Seok Kim, CEO, SmartStudy. "We're very honored by this record and will continue to focus on delivering high-quality entertainment beyond the digital platforms."
"Many songs are able to claim national success and increasingly achieve international impact also, but very few go on to become a global phenomenon in the way that Baby Shark has. It's certainly beloved of children and parents in the UK – who have helped it to become BRIT Certified x2 Platinum at one of the fastest rates ever for a single." said Gennaro Castaldo, BPI Spokesperson.