A significant portion of global digital advertising expenditure is at risk due to ad fraud in 2023, according to Juniper Research's latest study. The study reveals that approximately 22% of the entire digital ad spend and 30% of the budget allocated for mobile advertising are susceptible to being lost to fraudulent activities. Juniper's comprehensive analysis drew from a vast dataset encompassing 78,000 distinct sources, including exhaustive data from six major digital advertising channels. This research also included data from 45 different countries within 8 prominent regions. 
According to the findings, ad fraud is expected to account for 22% of global digital ad spend in 2023, amounting to $84.2 billion out of a total spend of $382 billion. This represents a substantial loss to advertisers and marketers.
Ad fraud will more than double (+105%) by 2028, reaching $172.3 billion out of an estimated global spend of $747 billion that year. This projection underscores the escalating nature of the issue.
Elisah Sudlow-Poole, senior research analyst at Juniper, states in the report: "Data provided by popular ad platforms, such as Facebook and Google, provide an incomplete picture of the success of advertising campaigns. That is, these platforms give an optimistic view of campaign efficiency; failing to distinguish between how many clicks or views originated from legitimate users compared to click farms or fraudulent bots. As this fraudulent activity will not result in a conversion, this can significantly impact the efficiency of advertising campaigns."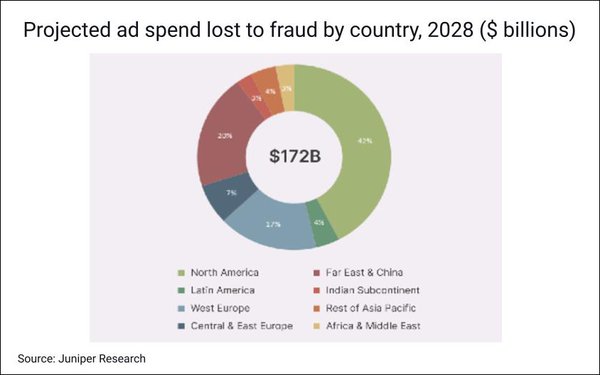 North America is expected to bear the largest share of ad fraud over the next five years, accounting for 42% of the total. The Far East and China follow closely behind, contributing 20% to the global ad fraud landscape.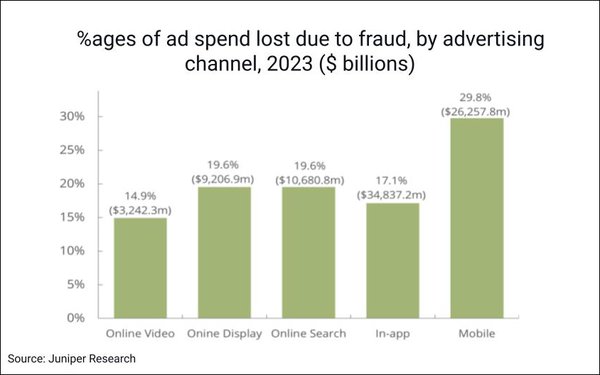 Ad fraud will affect various advertising channels differently. In 2023, it is projected to comprise nearly 30% of mobile ad spend, 20% of online display spend, 20% of online search spend, 17% of in-app advertising spend, and 15% of online video spend.
In-app digital ad spend is poised to generate the most fraud in 2023, accounting for 52% of global ad fraud by 2028. This can be attributed to the rapid growth of in-app advertising, driven by the increasing use of display and search ads to encourage app downloads.
Among the three online advertising types studied, search advertising is expected to generate the most fraud over the next five years.
Although online video advertising generates the smallest proportion of online ad traffic, it has seen rising costs. The higher clickthrough rates in this channel are attracting both fraudsters and advertisers.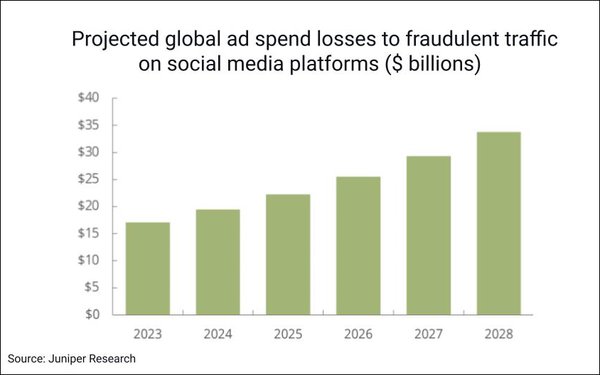 The limited number of large social platforms makes it easier for fraudsters to target specific fraudulent campaigns. Social media ad fraud continues to be a concern, with click farms contributing to attribution fraud.
The use of fraud mitigation platforms could potentially recover a significant portion of the lost ad spend. In 2023, these platforms are estimated to recover $23 billion, increasing to $47 billion by 2028. Automated processes using AI and machine learning are key to detecting and combating ad fraud effectively.
In summary, ad fraud remains a persistent challenge in the digital advertising landscape, with significant financial implications for advertisers. Mitigating fraud requires ongoing efforts and the adoption of advanced technologies to detect and prevent fraudulent activities.
In addition, a digital advertising technology and verification firm, DoubleVerify, revealed that its Fraud Lab unit had identified a groundbreaking instance of widespread ad impression fraud. This scheme is notable for its deliberate focus on manipulating audio inventory.