The realm of mobile app marketing is currently witnessing a substantial surge in growth during 2023 according to a new report by Moloco. It's driven by a global inclination to allocate more resources to mobile ad campaigns. 
A significant global trend is the upsurge in mobile ad budgets, with 64.7% of companies worldwide boosting their investments in this arena compared to the previous year. The UK stands out in this regard, with a remarkable 67% of businesses increasing their budgets, translating to a budget expansion exceeding 29%.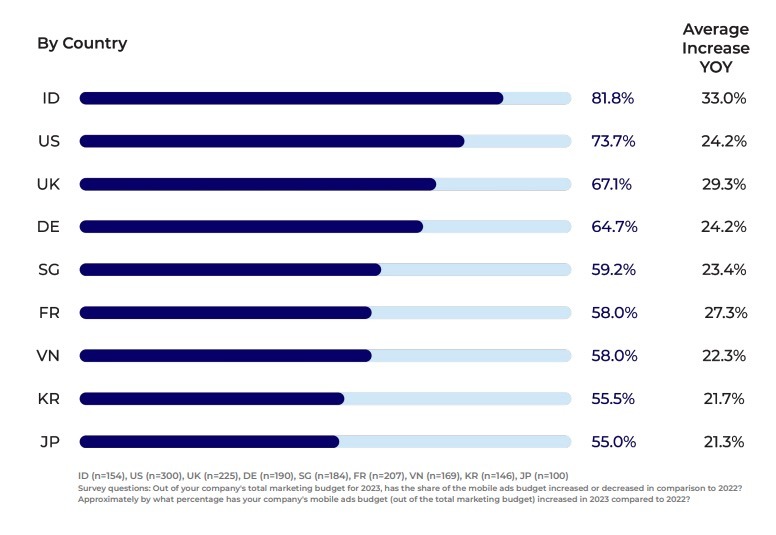 In 2023, performance marketing emerged as the frontrunner, claiming a substantial share of 45.7% in mobile ad spending. This surpasses brand marketing, which accounted for 41.4% of the allocation. This shift underscores the increasing recognition of performance marketing's effectiveness in not only boosting sales but also enhancing profitability.
The shift towards performance marketing isn't just about budget allocation but also a shift in mindset. Approximately 63.2% of global firms and 68% of UK organizations are actively planning to dedicate a larger portion of their mobile ad budgets to performance marketing in the current year.
Companies proficient in performance-driven mobile marketing have reported a high degree of satisfaction, rating it at 4.4 out of 5. They attribute this success to performance marketing's ability to effectively acquire new users, secure high-quality user acquisitions, and improve Return on Ad Spend (ROAS).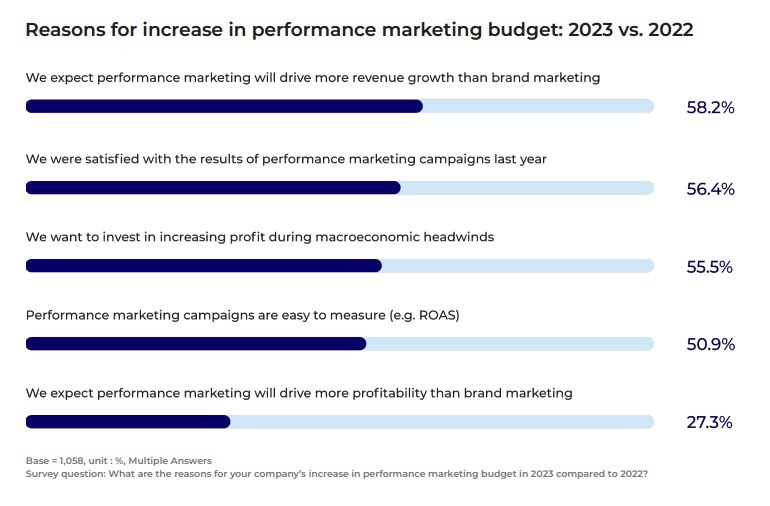 A noteworthy 58.2% of marketers believe that performance marketing is more effective than traditional brand marketing methods in driving revenue growth. This shift in perception underscores the growing importance of measurable results and ROI in marketing strategies.
In an era of economic uncertainty, 55.5% of marketers consider performance marketing as the key to achieving profitability. This sentiment is particularly strong in the UK, where an impressive 68.6% of marketers share this viewpoint.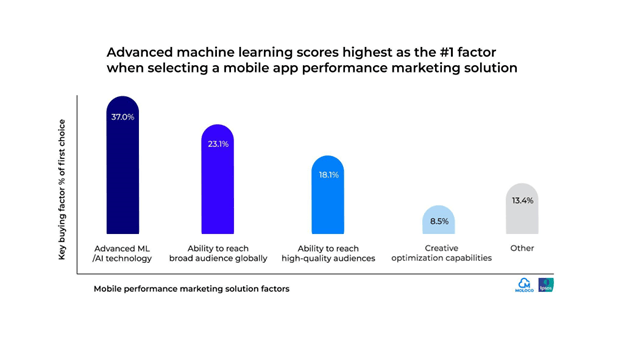 Advanced machine learning (ML) and artificial intelligence (AI) have taken center stage as the top criteria for selecting a mobile app performance marketing solution. This preference is driven by the ability of advanced ML/AI technology to provide real-time, precise data for informed decision-making and meticulous tracking of objectives.
In summary, mobile app marketing is experiencing significant shifts in budget allocation, with performance marketing leading the way. This trend is fueled by a desire for measurable results, improved ROI, and a focus on profitability. Advanced machine learning and AI technologies are playing a pivotal role in achieving success in this dynamic landscape.
These insights indicate that businesses are increasingly recognizing the value of data-driven, performance-oriented mobile app marketing strategies in today's competitive digital landscape.
In addition, a report revealed that total mobile app revenue surpassed $500 billion in 2022, of which $336 billion (66.8%) came from ad spend.