According to a recent report from Pixalate, as of the end of the first quarter of 2022, 1.5 million apps appear to be "abandoned" in the Google Play Store and Apple App Store, meaning they haven't been updated in more than two years. This means that 33% of all apps in the app stores were updated 2+ years ago. 
On the other hand, 314k apps have been "super-abandoned", meaning they haven't been updated in more than 5 years, which is equal to 11% of all apps in the app stores.
The report also finds that more downloads means more updates. 84% of apps with more than 100 million downloads were updated in the last 6 months. 58% of all apps last updated 5+ years ago are in the Apple Store (184k in Apple store compared to 130k in the Google app store).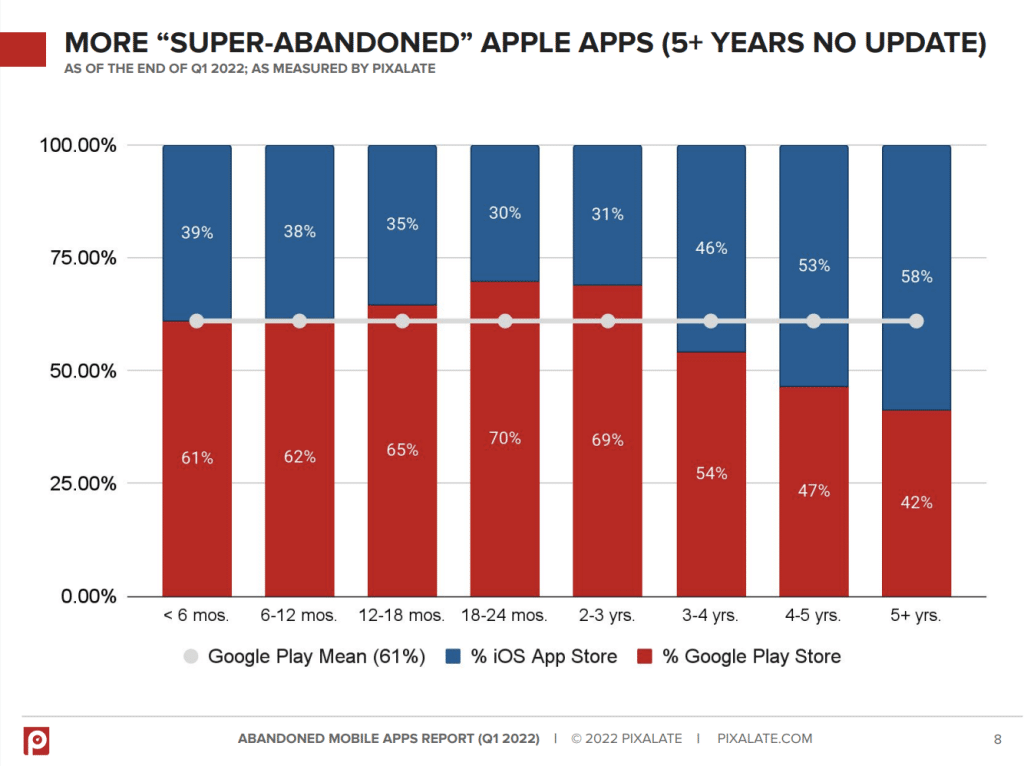 While Reference, Games and Education were the most-abandoned categories, finance, health and shopping were the categories where the apps were most updated.
Google announced in April that it will block downloads for outdated apps starting November 1. The company said outdated apps will no longer be available for users with devices running Android OS versions higher than apps' target API level. 
Apple has also started to send an email warning affected developers that it will remove apps that have not been "updated in a significant amount of time" unless developers submit an update within 30 days.
I feel sick. Apple just sent me an email saying they're removing my free game Motivoto because its more than 2 years old.

It's part of their App improvement system.

This is not cool. Console games from 2000 are still available for sale.

This is an unfair barrier to indie devs. pic.twitter.com/7XNcLfiEcR

— Protopop Games (@protopop) April 23, 2022
It is unknown what Apple means by "significant amount of time", but according to a Sensor Tower's analysis, which studied apps with at least 10,000 downloads in 2022, Apple's push to remove outdated apps will affect at least 2,966 apps which were updated in 2018 or earlier.