Streaming giant Netflix has begun directing iPhone & iPad users to its website for new sign-ups, months after Apple announced it'd let reader apps, apps like Netflix and Spotify that offer digital content, include an in-app link to external websites. 
Apple and Google have been facing criticism and legal challenges for years for not letting apps offer and inform users about third party payments that bypass the controversial 30% commission fee the tech giants charge for each in-app purchase made through their own payment systems. 
Because of this, new Netflix users couldn't subscribe to the service directly using the mobile app, instead, they had to visit its website first from a desktop device or a mobile browser. 
According to 9to5Mac, Netflix has now started using the new iOS API for reader apps and began directing users to a sign-up webpage, without requiring users to find the page on their own. 
When clicked on the new option, Apple shows an in-app message which says: "Any accounts or purchases made outside of this app will be managed by the developer "Netflix." Your App Store account, stored payment methods, and related features, such as subscription management and refund requests, will not be available. Apple is not responsible for the privacy or security of transactions made with this developer."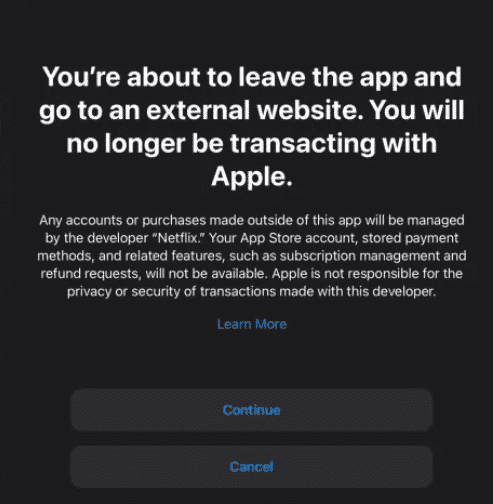 While Netflix hasn't made an official announcement yet, it seems the feature is being rolled out globally as users from different countries reported getting access to it. 
---
Also Read: Netflix teams up with Microsoft for ad-supported subscription plan
---
Last year, the South Korean parliament passed a bill requiring Apple and Google to accept third-party payment systems. Following the bill, both Google and Apple announced they would comply with the law and enable alternative payments. 
South Korea is not the only country taking legal action against the tech giants' app store practices, The Netherlands Authority for Consumers and Markets (ACM) released a ruling last year forcing Apple to let dating apps use alternative payment systems. After being fined €5M ten times for failing to meet requirements, Apple finally agreed to allow Dutch dating apps to offer alternative options.