Facebook has launched Stars store, a website where people can use Facebook Pay to buy Stars "at lower rates" to give to their favourite creators.
Up until now, Stars could only be purchased while watching videos as in-app purchases on mobile devices where they are subject to an app store fee. However, with the new Stars store, fans will use Facebook Pay when purchasing Stars, not Apple or Google's payment options.
Facebook is currently offering 8 different Star packs from $0.99 to $99.99, each offering limited-time bonus stars. For example, when you purchase 310 Stars for $5.99, you'll get 220 Stars as a bonus.
Stars purchased in the Stars store on mobile or desktop are deposited into people's virtual wallets for them to send to eligible creators during Facebook Live or on demand videos.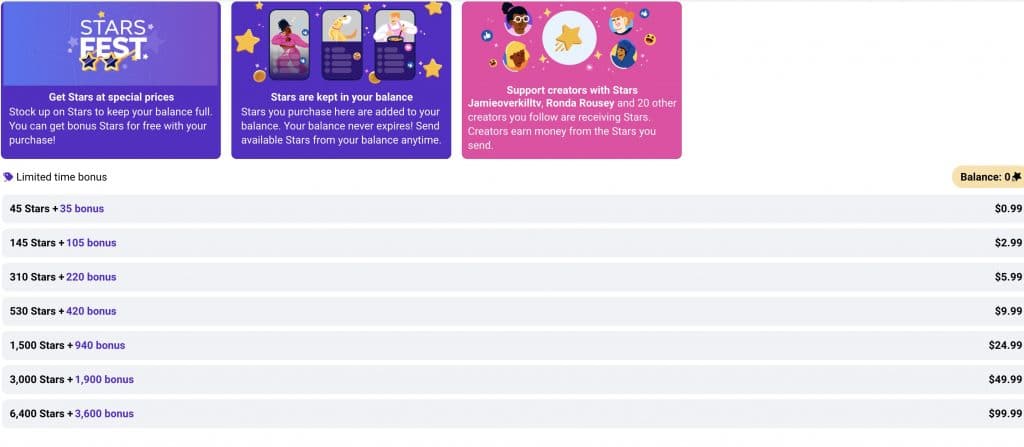 Facebook says it's testing Stars in more places, including videos on News Feed, the Watch feed and the gaming tab and next year it'll start testing in Reels.
Apple's App Store currently prohibits iOS apps from offering alternative payment options for purchasing digital goods. In early November, Facebook announced the launch of a promotional link for creators for their Subscription offering in order to circumvent the App Store's 30% fees.
With the new payment link on Facebook's Subscription tool, which allows creators to charge fans on a recurring basis for exclusive content, fans will be directed to a web link to pay for creators via Facebook Pay.
Along with the new Stars store, Facebook also announced the launch of Stars Party, a way for fans to send Stars together. "A Stars Party starts when a certain number of people send Stars during a live stream. Once triggered, a countdown timer appears and the community has five minutes to hit a Stars goal together. If the goal is met, the Stars Party is complete and a shooting star animation flies in over the chat screen along with a giant "thank you" message. " Facebook said. Creators will get a $50 bonus for every completed Stars Party from December 22-January 3.
As part of its $1 billion creator fund, Facebook is also launching the Stars Double bonus. Through March 31, Meta (formerly Facebook) will match certain creators' Stars earnings, up to $750 a month. All in, creators could earn up to $3,750 in bonus payments. The program is invite-only and available in all markets where Stars is available.