A new report from mobile marketing and analytics company AppsFlyer revealed that developers were exposed to $5.4 billion in app install fraud in 2022.
According to the 2023 edition of the state of mobile app fraud report, the surge was likely boosted by the release of iOS 14.5, marketers turning to cheaper but less secure ad networks in an effort to reduce their costs, and better fraud detection technologies that led to more cases being reported.
When comparing the first and second halves of 2022, AppsFlyer found a 40% increase on iOS and 46% rise on Android in fraudulent activity.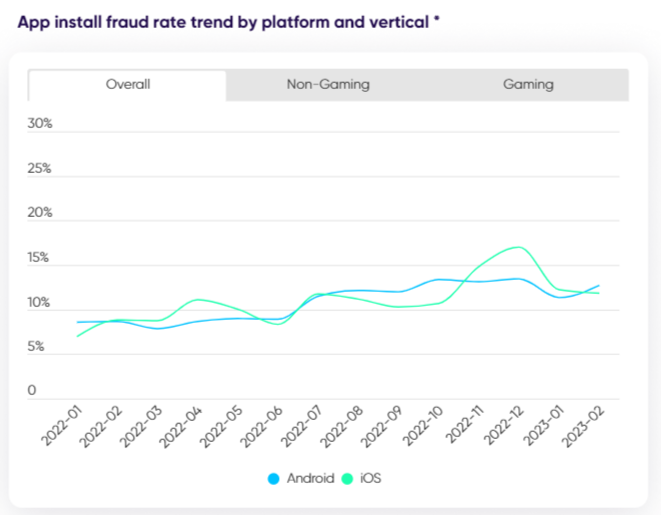 The report shows that while both gaming and non-gaming apps were impacted by fraud last year, ''the gaming industry's data savvy and emphasis on post-install value optimization weeds out fraudulent activity''.
In February 2023, the average fraud rate in non-gaming apps was 23.66% on Android and 19.28% on iOS. When it comes to gaming apps, it was standing at 2.22% on Android and 1.86% on iOS. 
''Fraud in gaming apps is comparatively low (just 1/6th of Non-Gaming fraud rate), as Gaming user acquisition (UA) managers are considered best-in-class in anti-fraud practices,'' the report reads. ''To curb fraud, marketers from other sectors could benefit from adopting the best practices long-established in mobile gaming.''
Meanwhile, fraud in finance apps reached alarming levels on both Android and iOS last year, accounting for nearly half of the total fraud exposure ($2.64B). They were followed by casino real money & sports betting apps ($1.18B), and shopping apps ($406M) respectively.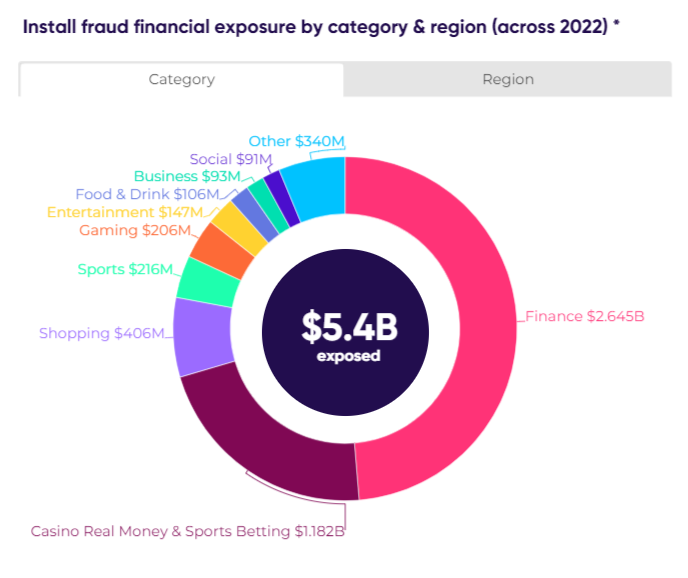 AppsFlyer also found that Android apps had higher fraud rates in Mexico (34%), the United Kingdom (21%), Vietnam (21%), India (15%), and Russia (11%).
iOS apps, on the other hand, were exposed to more fraud in markets like Vietnam (28%), the United Kingdom (23%), India (20%), Mexico (19%), and Russia (18%).
Google recently revealed that its Play Commerce service prevented more than $2 billion in fraudulent transactions in 2022.