In the digital age where coding is no longer confined to desktops, the advent of code editors for iPad has ushered in a new era of programming convenience. These versatile apps transcend the limitations of traditional coding environments, allowing developers to harness the power of their iPads. From the feature-rich Koder Code Editor to the comprehensive Textastic Code Editor and the AI-enhanced CodeSnack IDE, each application caters to a diverse set of coding needs. Whether you're a coding aficionado seeking seamless integration or a beginner eager to explore the world of programming, our exploration of these iPad code editors promises to unravel a tapestry of innovation, efficiency, and limitless possibilities. Join us on a journey where coding meets mobility, and discover how these editors are reshaping the landscape of iPad-based programming. Welcome to the future of coding on the go!
Koder Code Editor
Price: Free

Koder is your go-to code editor for iPad and iPhone, offering a plethora of features. With syntax highlighting supporting over 80 languages, a snippet manager, tabbed editing, and find-and-replace capabilities, Koder ensures a seamless coding experience. It goes beyond facilitating remote and local file connections, allowing you to code anytime, anywhere. The built-in terminal and support for multitasking on iPad further enhance its versatility. Whether you're a seasoned developer or coding on the fly, Koder is an excellent option.
Koder Code Editor on the App Store
Textastic Code Editor
Price: $12.99

Textastic is a terrific app that is one of the code editors for iPad. Supporting over 80 programming and markup languages, it excels in syntax highlighting and code completion. Seamlessly connect to SFTP, FTP, WebDAV, Dropbox, or Google Drive. The SSH terminal enables direct server interaction. Textastic embraces multitasking with features like Split View and Slide Over, making it an ideal choice for professionals and learners alike. Go to Textastic's website to learn more.
Textastic Code Editor on the App Store
---
Also Read: 7 Calendar Apps for iPad
---
CodeSnack IDE
Price: Free/In-App Purchase: Up to $49.99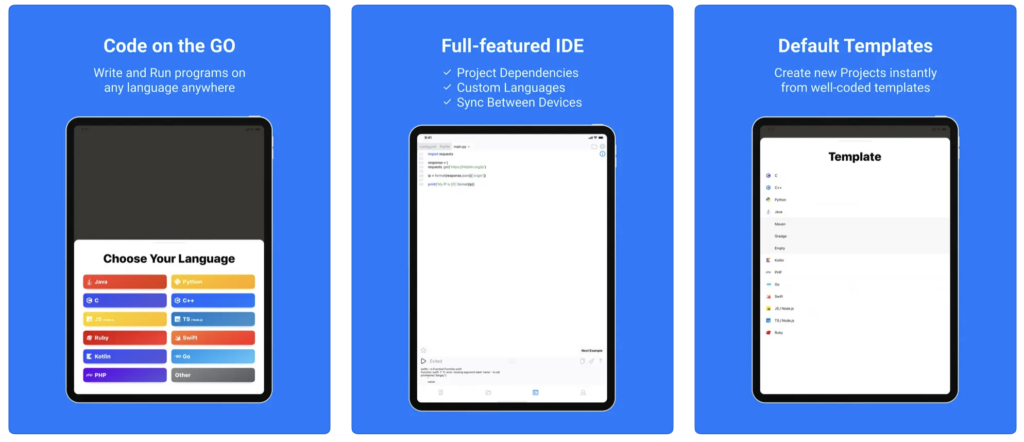 CodeSnack IDE redefines mobile coding with AI-enhanced features and an intuitive interface, and it ranks among code editors for iPad. Craft real-world apps, learn from a vast library of samples, and enjoy smart bug detection. The integration of GPT-4 introduces AI-generated project creation, code explanation, and code-specific question answering. CodeSnack IDE supports 18 programming languages, offers quick project templates, and provides a Pro Subscription for enhanced benefits. Whether you're a coding enthusiast or a seasoned developer, CodeSnack IDE caters to your coding needs on the go. Visit CodeSnack IDE's website to learn more.
CodeSnack IDE on the App Store
Mimo: Learn Coding/Programming
Price: Free/In-App Purchase: Up to $9.99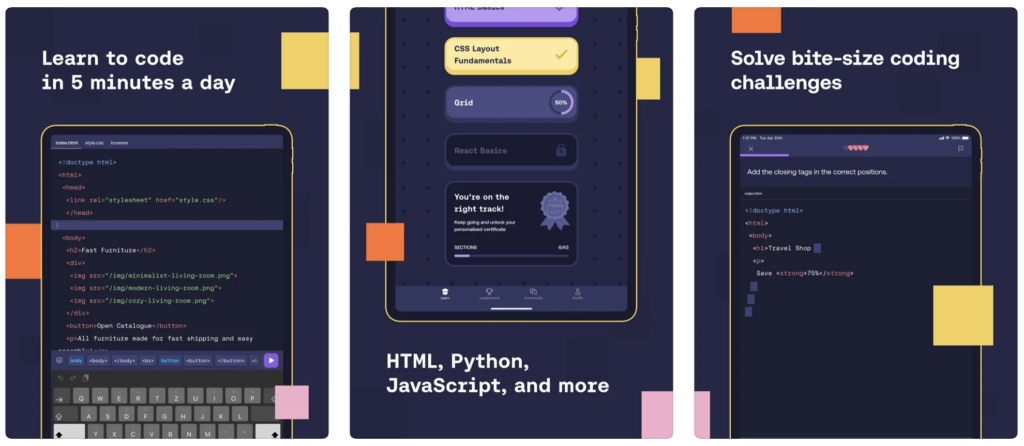 Mimo simplifies the journey of learning to code on iPad. With lessons in Python, JavaScript, HTML, and more, Mimo's bite-sized coding exercises fit seamlessly into your daily schedule. Engage with a coding community, create projects, and practice at your own pace. Mimo's professionally built curriculum makes it accessible for beginners and beneficial for those with prior coding experience. Install Mimo to embark on your coding journey and unlock the skills of the century.
Mimo: Learn Coding/Programming on the App Store
---
Also Read: The 10 Best iPad Apps for Business
---
CodeSandbox
Price: Free

CodeSandbox for iOS offers a full-featured IDE, allowing you to develop, test, and collaborate on projects directly from your iPhone or iPad. With no setup required, import GitHub repositories or choose from millions of templates. Enjoy IntelliSense, syntax highlighting, Docker container compatibility, Git support, and real-time collaboration. CodeSandbox empowers developers of all levels, ensuring a seamless transition between devices. Experience the future of web development with CodeSandbox. Explore CodeSandbox's website for more detailed information.
JetBrains Space
Price: Free

JetBrains Space mobile app complements the Space software development platform, and it is considered among the code editors for iPad. Manage your entire development process, from Git repositories to CI/CD pipelines, on one integrated platform. Review code, manage issues, communicate with your team, and access project details. The unified inbox keeps you informed with actionable notifications. With support for issue boards and code reviews, the mobile app ensures you stay connected and productive on the go. Check out JetBrains Space's website to learn more.
JetBrains Space on the App Store
---
Also Read: The 8 Best Free VPNs for iPad
---
Mobile C [ C/C++ Compiler ]
Price: Free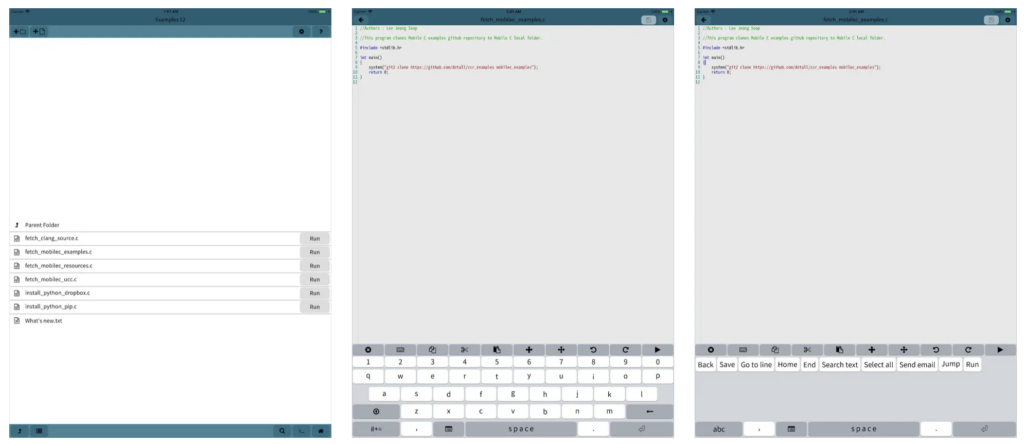 Learn programming on your mobile devices with Mobile C. This versatile app supports C, C++, Python, JavaScript, and more, with auto-complete and syntax diagnostics. Enjoy a built-in terminal or shell, making coding on the go a breeze. Whether you're a student or a seasoned coder, Mobile C provides a feature-rich environment to hone your programming skills. No internet connection is required, making it an ideal companion for coding on the move.
Mobile C [ C/C++ Compiler ] on the App Store
Codea
Price: $14.99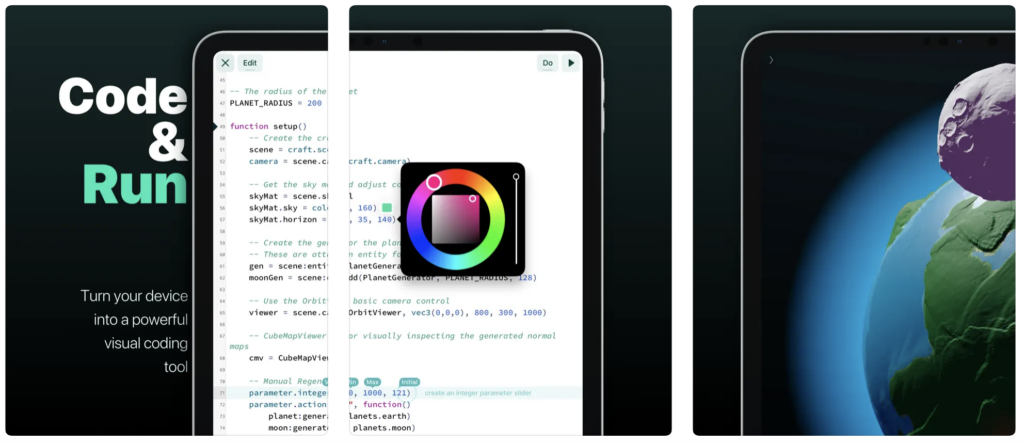 Codea empowers you to turn your visual ideas into interactive creations on iPad. With a fully-featured 2D and 3D renderer, Codea stands out as a beautiful and user-friendly code editor. Touch your code to adjust colors, images, and sounds intuitively. Export finished projects to Xcode for real app production. Codea, built on the Lua programming language, facilitates a creative coding experience. Codea stands out among code editors for iPad.
---
Also Read: The 10 Best Free Note-Taking Apps for iPad
---
Spck Editor
Price: Free/In-App Purchase: Up to $4.99

Spck Editor brings JavaScript labs to your fingertips, allowing you to explore coding projects on the go. Edit, commit, and run JavaScript projects effortlessly, with features like local file access, project-wide searching, and integrated Git support. The dynamic keyboard for JS, HTML, and CSS editing enhances your coding experience. Whether you're a beginner or a seasoned coder, Spck Editor provides a simple yet feature-filled environment for JavaScript enthusiasts.