Embarking on a musical journey with your iPad has never been more enchanting, thanks to the evolution of sheet music apps that seamlessly blend tradition with technology. These apps redefine how musicians engage with their scores, offering a symphony of features that cater to every musical need. From the versatility of forScore to the innovation of Piascore, the extensive repertoire of MuseScore, the orchestral brilliance of Tomplay Sheet Music, the visual symphony crafted by PlayScore 2, the precision of Notation Pad, to the engaging musical mastery of Note Rush, each app is a unique virtuoso, transforming your iPad into a dynamic musical companion. In this digital age, where the notes on a page come to life with a touch, explore the unparalleled convenience and boundless creativity that these sheet music apps bring to musicians of all levels. Without further ado, here are some sheet music apps for iPad!
forScore
Price: $19.99/In-App Purchase: Up to $9.99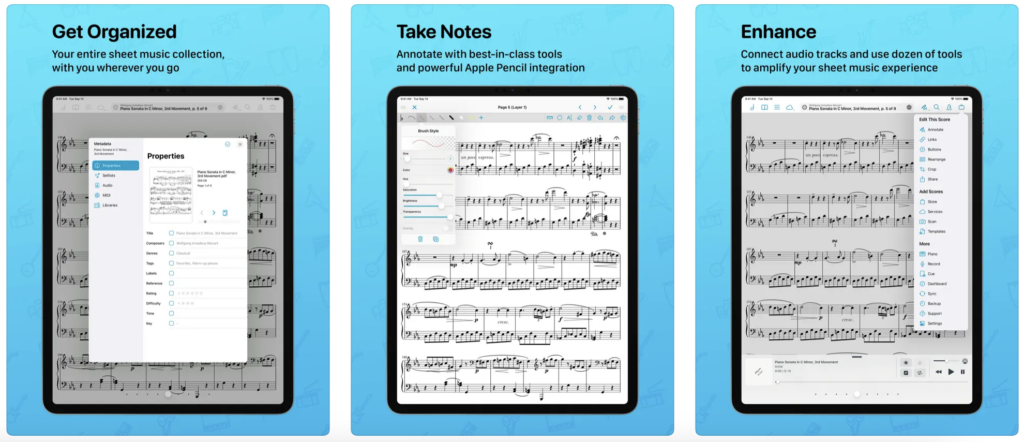 For musicians seeking a seamless transition to digital scores, forScore emerges as a comprehensive solution. forScore caters to iOS, iPadOS, and macOS users, promising a synchronized experience across devices. Beyond basic sheet music functions, forScore integrates iCloud for PDF syncing, allows importing from cloud services, and facilitates collaborative score sharing. Its versatility extends to organizational tools such as smart bookmarks and setlists, making it a powerhouse for efficient musical sessions. With features showcased in Apple keynotes, forScore stands out as an invaluable ally for musicians globally. To learn more, check out forScore's website.
Piascore
Price: Free/In-App Purchase: Up to $11.99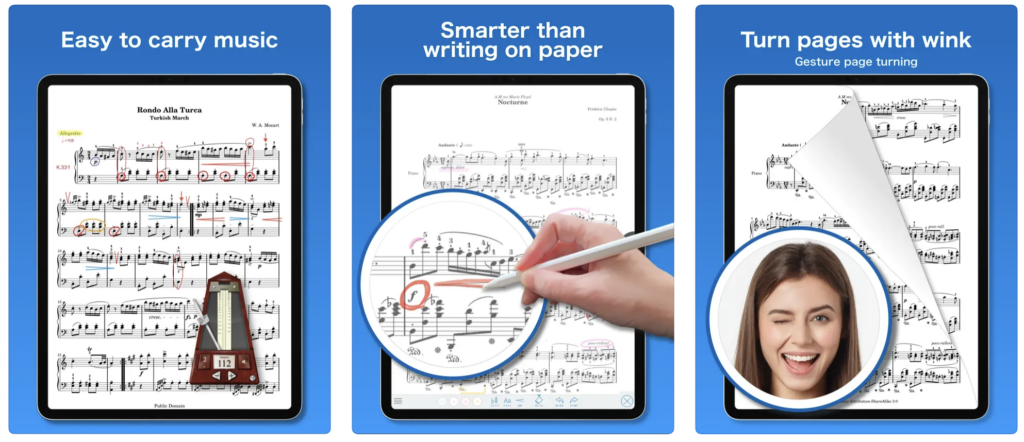 Piascore, a beacon for more than 4 million musicians, redefines digital sheet music exploration. This iPad/iPhone app prioritizes accessibility and functionality and stands out among sheet music apps for iPad. Piascore facilitates effortless music score browsing, offering features like automatic vertical scrolling and password-protected PDF support. It stands out by seamlessly integrating with renowned music libraries like IMSLP, providing a vast array of classical sheet music for free. A real-sound metronome and robust score management tools further elevate Piascore's standing in the digital music realm. For more detailed information, visit Piascore's website.
---
Also Read: The 7 Best Music Recording Apps for iPhone
---
MuseScore
Price: Free/In-App Purchase: Up to $69.99

MuseScore, a free app, has emerged as the go-to platform for musicians of all genres. Boasting a colossal collection of over 1.5 million free sheet music pieces, MuseScore accommodates diverse tastes, from classical compositions to anime transcriptions. This app transcends mere notation, offering practice-enhancing features like interactive players, adjustable tempo, and even video courses from top music instructors. Whether you play piano, trumpet, or any instrument in between, MuseScore promises a harmonious journey through an extensive and ever-growing musical library. Go to MuseScore's website for more detailed information about the app.
Tomplay Sheet Music
Price: Free/In-App Purchase: Up to $119.99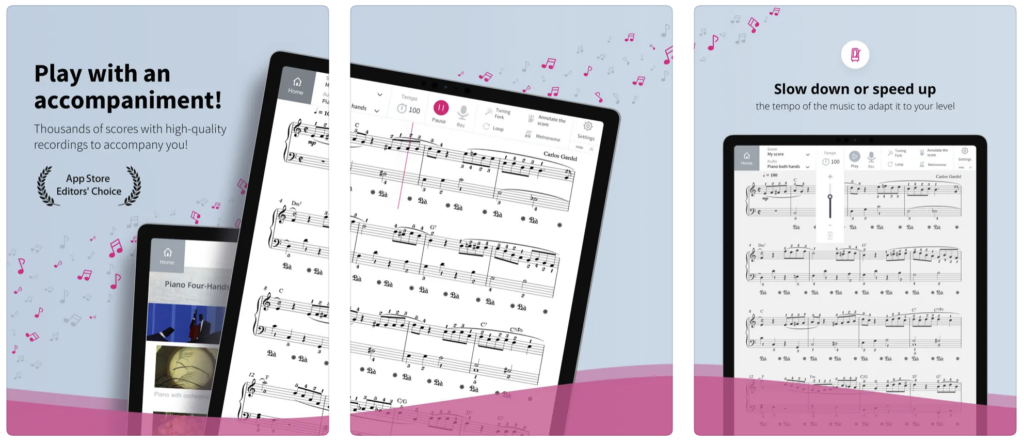 Tomplay Sheet Music, available for free, emerges as a virtuoso in classical, pop, and jazz sheet music. Tailored for diverse instruments, including piano, strings, winds, and vocals, Tomplay transforms your iPad into a versatile musical companion. From solo piano scores to orchestral pieces, Tomplay offers a vast repertoire with high-quality recordings by professional musicians. Its tailored functions, including multi-level difficulty settings, integrated metronome, and innovative Air Page Turning, establish Tomplay as a conductor of unparalleled musical experiences, and it deserves to be among sheet music apps for iPad.
Tomplay Sheet Music on the App Store
---
Also Read: The 5 Best Music Apps for Apple Watch
---
PlayScore 2
Price: Free/In-App Purchase: Up to $44.99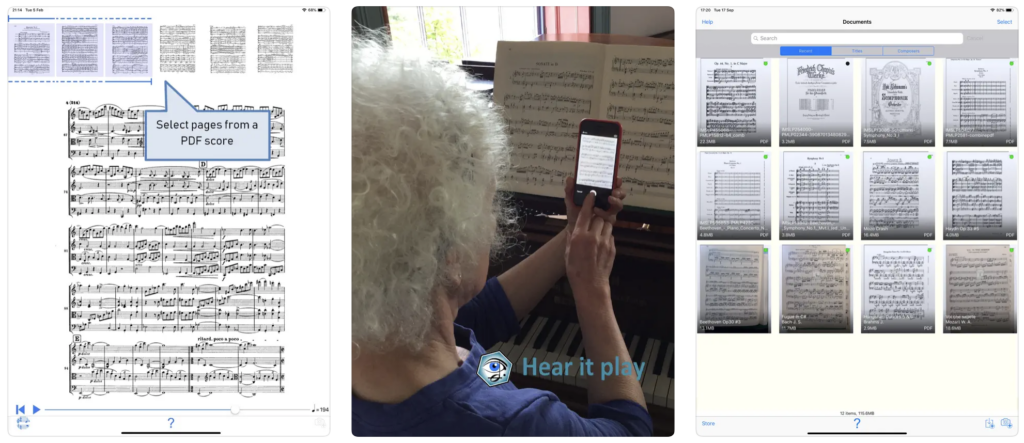 PlayScore 2 is a revolutionary app, and it ranks among the sheet music apps for iPad. By transforming photos, images, and PDFs into playable music, PlayScore 2 enriches your musical journey. Tailor the playback with adjustable volume, instrument settings, and even transposition for each staff. Designed for various instruments and ensemble types, PlayScore 2 provides a dynamic musical experience. Whether you're a soloist, in a choir, or part of an orchestra, this app opens a new realm of possibilities, aligning visual sheet music with captivating sound. Explore PlayScore's website for more detailed information.
Notation Pad
Price: Free/In-App Purchase: Up to $19.99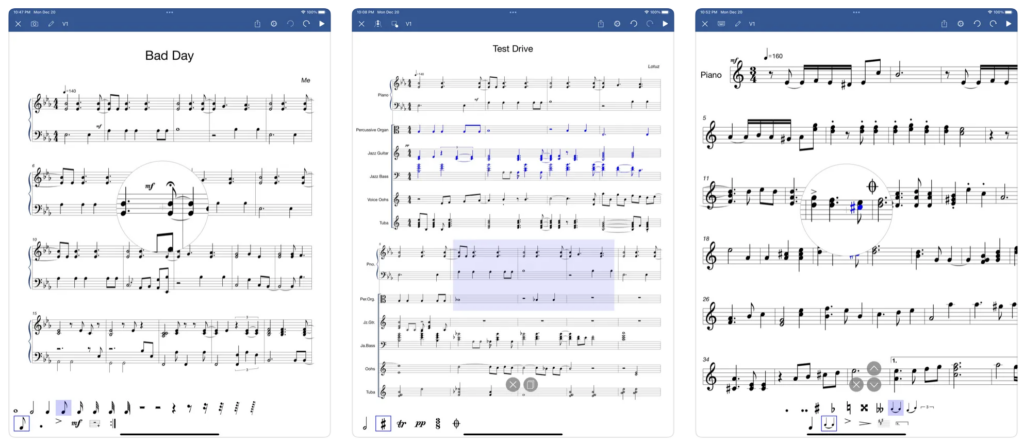 Notation Pad stands as a pinnacle for digital sheet music on iOS and is considered one of the sheet music apps for iPad. Designed for both seasoned composers and beginners, Notation Pad seamlessly combines composition, editing, and playback functionalities. Real-time collaborative editing via SharePlay enhances its collaborative aspect. With support for over 100 musical instruments, adjustable tempo, and MusicXML export capability, Notation Pad ensures a user-friendly interface for composing, editing, and sharing musical creations. Visit Notation Pad's website to learn more about the app.
---
Also Read: 7 Free Offline Music Apps for iPhone
---
Note Rush: Music Reading Game
Price: Free/In-App Purchase: Up to $8.99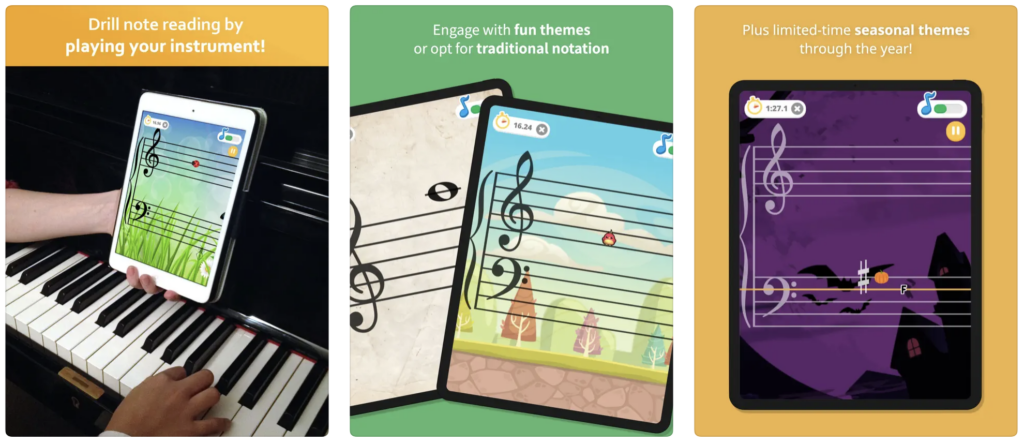 Note Rush turns music reading into an engaging game. Tailored for all ages and instruments, Note Rush listens to your playing, providing instant feedback for note identification speed and accuracy. Unlike traditional flashcards, Note Rush encourages contextual learning by allowing you to play on your instrument. With built-in levels for piano and customizable level designs, this app makes note-reading a delightful journey, perfect for both beginners and seasoned musicians.
Note Rush: Music Reading Game on the App Store