Mainly caused by the rising inflation, interest rates, the ongoing conflict in Ukraine and the high-possibility of an economic recession, the uncertainty in global markets has led to a 48% and 9% decrease in the activity of Ad Tech and MarTech mergers and acquisitions (M&A) in the second quarter of 2022.
According to Luma Partners' Q2 2022 Market Report, public Ad Tech and Mar Tech stocks were also down 30% Y/Y in the second quarter, when the negative factors most of which first emerged in the previous quarter continued gaining momentum.
The second quarter saw just a few of remarkable ad tech deals, such as OpenWeb's $100 million acquisition of France-based ad tech platform Adyoulike and Dreamscape's acquisition of ad intelligence firm Standard Media Index.
Luma Partners expects a comeback in the third quarter as we're seeing more conversations between companies now. For example; Unity announced a $4.4 billion merger deal with ironSource last week.
"We're starting to see conversations pick back up now that we're two quarters into this correction," said Conor McKenna, a Director at Luma Partners (via AdExchanger). "Deals can get done in a low market and deals can get done in a high market; you just need to be comfortable in terms of where we are and then start to assess on those terms."
However, the effects of the economic crisis on advertising budgets are still unpredictable. Companies often cut their advertising budgets in tough times, but performance marketing, which marketers think is safer in tough times, could bring out different results.
"It's possible that overall spending decreases, but that the shift towards digital and digital's slice of the pie increases," said Mckenna. "That will be very interesting to see."
While Q2 wasn't very fruitful in terms of Ad Tech & Mar Tech deals, M&A activity in Digital Content had its strongest quarter seeing various transactions valued over $1 billion.
Notable deals include Joffre Capital's acquisition of %25 stake in Playtika, Media and Games Invest Group's acquisition of AxesInMotion, Candle Media's acquisition of Attn:, Shutterstock's acquisition of Pond5 and Embracer Group's acquisition of Eidos, Crystal Dynamics, and Square Enix Montreal for $300 million.
The list also includes Elon Musk's previous offer to buy Twitter for $44 billion. Although Twitter accepted the offer, Musk eventually left the deal and was sued by the social media company which now demands a termination fee of $1 billion.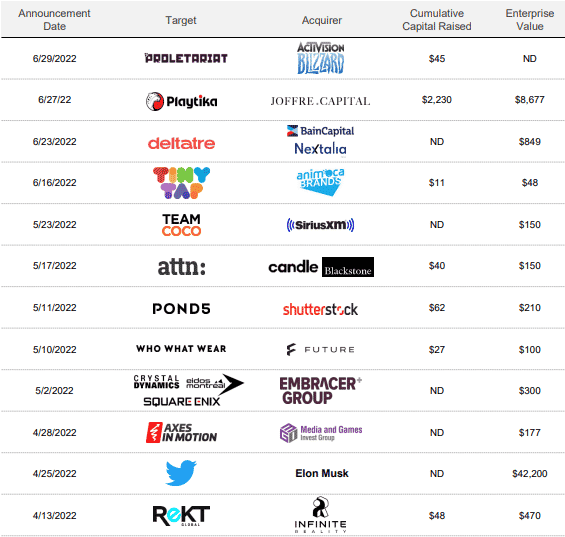 Meanwhile, Netflix recently announced a partnership with Microsoft to bring ads to its streaming platform with a new subscription plan. Disney is also preparing to roll out a new ad-supported tier in late 2022.
"This is opening up a ton more inventory in places where people spend a lot of their time," McKenna told AdExchanger. "It's hard to imagine that CTV doesn't have big growth from an advertising perspective as a result."