Are you ready to embark on a delightful journey filled with colorful gems, exciting puzzles, and hours of captivating gameplay? Look no further as we delve into the enchanting world of the best match-3 games for Android. These gems of the mobile gaming world offer not only thrilling challenges but also a visually appealing and immersive experience that will keep you entertained on the go. Whether you're a seasoned match-3 enthusiast or new to this genre, our curated list has something for everyone. Join us as we explore these top-notch Android games that promise to tickle your puzzle-solving skills and provide endless hours of fun. Without further ado, here are the best match-3 games for Android!
Jewel Quest
Price: Free
Jewel Quest is an exhilarating mobile game that immerses players in a world of brilliant gemstones and captivating puzzles. With its addictive gameplay, you'll find yourself endlessly entertained as you match three or more jewels to create cascading combinations. Unlocking thousands of levels will put your strategic thinking to the test while providing a satisfying brain workout. Special rocket jewels, jewel bombs, and mega magic jewels add exciting twists to the game, ensuring that each level offers a fresh challenge. With over 2000 levels to explore, unique boosters, and the ability to play without an internet connection, Jewel Quest promises hours of jewel-matching fun on the go.
Pokémon Shuffle Mobile
Price: Free/In-App Purchase: Up to $79.99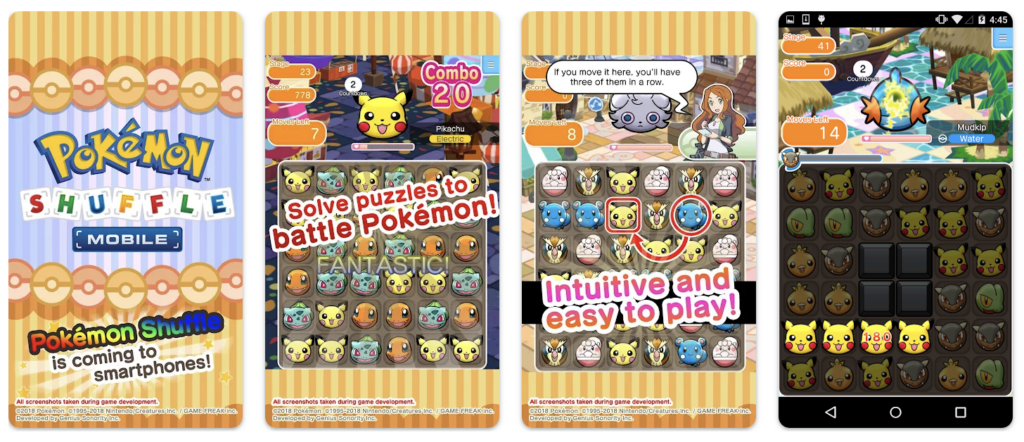 Pokémon Shuffle Mobile takes the beloved world of Pokémon and merges it with the excitement of match-3 puzzles, and it stands out among the best match-3 games for Android. This unique mobile game lets you line up your favorite Pokémon vertically or horizontally to battle wild Pokémon in a casual yet deeply engaging gameplay style. With numerous stages and Pokémon to collect, both beginners and experts will find hours of fun in this game. Its intuitive mechanics make it accessible to all players, while the depth of strategy involved keeps the challenges interesting.
Pokémon Shuffle Mobile on Google Play
---
Also Read: The 12 Best Android Puzzle Games
---
Puzzle & Dragons
Price: Free/In-App Purchase: Up to $74.99
Puzzle & Dragons offers a thrilling combination of match-3 puzzles and classic monster-collecting RPG elements. In this free-to-play game, your strategic prowess shines as you assemble a team of monsters and embark on dungeon adventures. The gameplay is intuitive: match orbs of the same attribute to unleash your monsters' attacks. With over 2000 unique monsters, the possibilities for team combinations are endless, allowing you to tailor your roster to your play style. As your monsters evolve into more powerful forms, you'll face even greater challenges. The game's multiplayer mode lets you team up with friends to tackle dungeons together, enhancing the social aspect of your puzzle-solving journey. Puzzle & Dragons offers an ever-expanding world of puzzles, monsters, and strategic gameplay for both newcomers and RPG enthusiasts, and it ranks among the best match-3 games for Android.
Puzzle & Dragons on Google Play
Angry Birds Match 3
Price: Free/In-App Purchase: Up to $99.99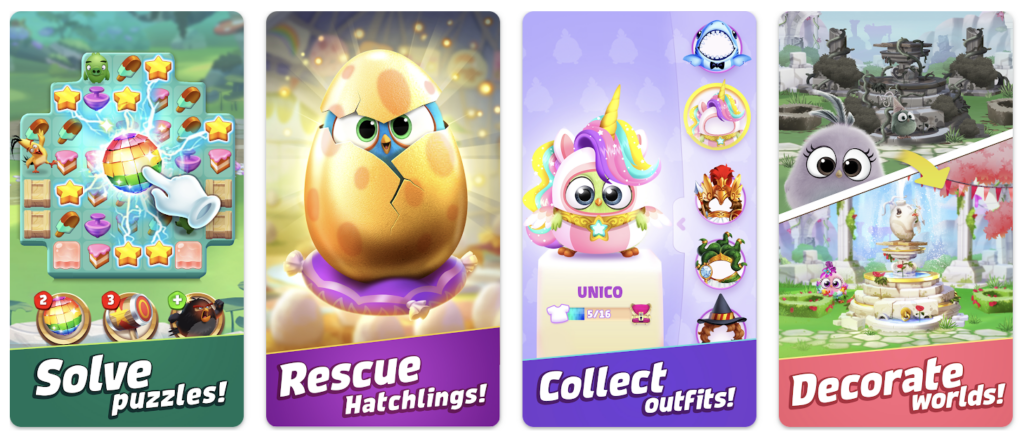 Angry Birds Match 3 invites players into the delightful world of the Angry Birds, where you'll embark on a charming match-3 puzzle adventure. This free-to-play game combines unique gameplay with challenging puzzles. Your mission is to collect adorable hatchlings, decorate scenes, and rescue chicks from the piggies while growing your flock of hatchlings. Matching four or more items unleashes the Big Birds like Red, Bomb, and Chuck, adding a layer of strategy to your gameplay. Special themed events throughout the year keep things fresh, and visiting your Hatchlings to try out new outfits adds a personal touch to the game. With its critical levels of cuteness and regular updates, Angry Birds Match 3 promises endless hours of bird-tastic entertainment.
Angry Birds Match 3 on Google Play
---
Also Read: The 13 Best Physics Games for Android
---
Candy Crush Saga
Price: Free/In-App Purchase: Up to $149.99
Candy Crush Saga is the legendary match-3 puzzle game that has taken the mobile gaming world by storm, and it deserves to be among the best match-3 games for Android. With over a trillion matching levels played, it's the quintessential title in its genre. Your mission is simple: match candies in rows of three or more to progress through levels filled with sticky puzzles. The game rewards quick thinking and smart matching with sugar bonuses and tasty candy combos. With various gameplay modes like Target Score, Clear the Jelly, and Collect the Ingredients, Candy Crush Saga offers sweet ways to play. Whether you're a casual player or a Candy Crush veteran, this game provides hours of addictive fun. Spin the Daily Booster Wheel and participate in time-limited challenges.
Candy Crush Saga on Google Play
Monster Busters: Hexa Blast
Price: Free/In-App Purchase: Up to $199.99
Monster Busters: Hexa Blast is a captivating match-three puzzle game with a hexagonal twist, and it is considered among the best match-3 games for Android. Players will embark on an enchanting adventure, climbing the Monster Tower by solving puzzles and challenges. Match three or more tiles to make the monsters explode in a cascade of colorful fun. With over 1,000 stages, each offering a unique challenge, this game keeps you engaged with coin rewards and breathtaking cartoon-style design. The game also allows you to exchange IDs with friends, bringing their monsters into your team and fostering a sense of community. As you progress, you'll uncover mysterious events and solve puzzles while enjoying countless hours of addictive gameplay.
Monster Busters: Hexa Blast on Google Play
---
Also Read: The 13 Best Word Games for iPhone and Android
---
Gunspell 2
Price: Free/In-App Purchase: Up to $104.99
Gunspell 2 is a spellbinding RPG puzzle game that seamlessly blends magic, guns, and match-3 multiplayer duels. Your journey will lead you through mysterious worlds filled with magic, puzzles, and formidable foes. Key features include exploring different story adventures, collecting unique heroes, powerful items, and dark magic, as well as engaging in real-time online match-3 battles. Matching gems and jewels in turn-based duels on a hexagonal board adds depth to the gameplay. The game's RPG elements offer opportunities to evolve your heroes and use powerful combinations of gems and jewels. Gunspell 2 keeps players engaged with its continuous addition of new missions, heroes, and story adventures, ensuring that your magical adventure never gets stale.
Lily's Garden
Price: Free/In-App Purchase: Up to $99.99
Lily's Garden presents a fresh twist on match-2 gameplay set in a world of romance, gardens, and puzzles. In this unique match-2 blast game, you'll swap and blast colorful flower pairs to create stunning petal explosions. The game's storyline follows Lily as she works to renovate her great-aunt's garden while solving challenging blast puzzles. As you progress, you'll dig into a romantic love story filled with twists and turns, interact with colorful characters, and design the garden with customization options. Renovate your estate, match flowers, and unveil hidden areas as you immerse yourself in this charming puzzle adventure. Lily's Garden is a game that combines landscaping with romance and puzzle-solving, offering a delightful and captivating experience, and it is one of the best match-3 games for Android.
---
Also Read: The Best Hidden Object Games for Android and iPhone
---
MARVEL Puzzle Quest
Price: Free/In-App Purchase: Up to $99.99
Marvel Puzzle Quest is the ultimate match-3 superhero game that brings together over 250 of your favorite Marvel superheroes and Villains in a unique puzzle RPG twist. Competing with a community of over 20 million players worldwide, you'll embark on campaigns, complete daily quests, and engage in epic event stories. Assemble your dream team from the vast Marvel character roster, mixing and matching Super Heroes and Villains to your liking. The game features engaging match-3 puzzle RPG gameplay, where you match tiles and harness Iso-8 to enhance your characters' abilities. Each hero comes with their own in-game Marvel comic book cover, adding a personal touch to your battles. Dive into the original MARVEL match-3 game, challenge opponents in PvP tournaments, and take on epic raid bosses in your quest to become a superhero master.
MARVEL Puzzle Quest on Google Play
Zombies & Puzzles
Price: Free/In-App Purchase: Up to $99.99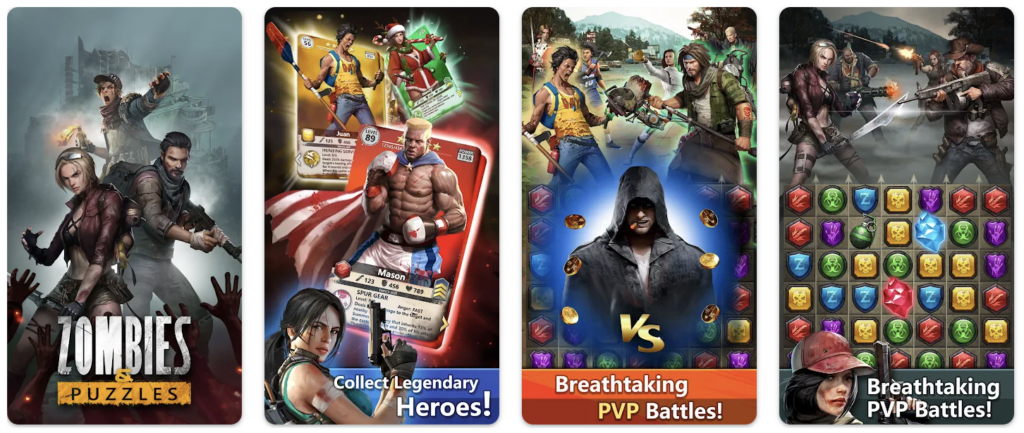 Zombies & Puzzles invites players into a post-apocalyptic world where survival is paramount. In this unique blend of match-3 puzzles and strategy, you must make friends or fight with other survivors to endure. As you navigate this dangerous world filled with infected beings, immense power awaits those daring enough to seize it. However, caution is advised because the post-apocalyptic landscape is not as friendly as it once was. Your mission involves rebuilding your shelter, training a formidable army, and recruiting legendary heroes. Zombies & Puzzles leverages classic match-3 puzzle gameplay, in which you'll engage in turn-based battles by matching and combining tiles. You'll also fortify your settlement by exploring its different sections, such as the facade of your home, fountains, and city walls. The game's vast array of unique heroes, items, and magic offers endless possibilities for creating powerful combinations.
Zombies & Puzzles on Google Play