Last month, Facebook launched support for paid online events to enable small businesses in the United States and 19 other countries to monetize their live online events through a one-off access charge that's collected when guests register to attend.
The company also said that it will not collect any fees on purchases until August 2021, because of the mandated social distancing during the COVID-19 pandemic. At the same time, Facebook had cited that Apple dismissed their request to reduce its 30% App Store fee. "We asked Apple to reduce its 30% App Store tax or allow us to offer Facebook Pay so we could absorb all costs for businesses struggling during COVID-19. Unfortunately, they dismissed both our requests and SMBs will only be paid 70% of their hard-earned revenue," the social media giant had said in a statement.  
On Friday, Facebook shared an updated statement saying that Apple will allow Facebook Pay to collect online event fees, without Apple collecting its 30% App Store tax.
Businesses will be able to keep all of their paid online event earnings (minus applicable taxes) from now until December 31. Facebook Pay will process all paid online events purchases, meaning that businesses and creators will not pay the 30% Apple App Store tax for the remaining three months of 2020.
The exemption will not apply to gaming creators. "We unfortunately had to make this concession to get the temporary reprieve for other businesses," said Vivek Sharma, Vice President of Facebook Gaming. "For purchases made through Facebook Pay, you'll receive 100% of the price that guests pay, after applicable taxes. For purchases made on a mobile device through Apple in-app purchase, you'll receive 70% of the price guests pay because Apple will take 30% of the revenue for each in-app purchase, after applicable taxes." Apple says to gaming creators.
The news came just after Apple rejected the Facebook update that says its users "the App Store would take a 30% cut of sales in a new online events feature", for showing "irrelevant" information to users.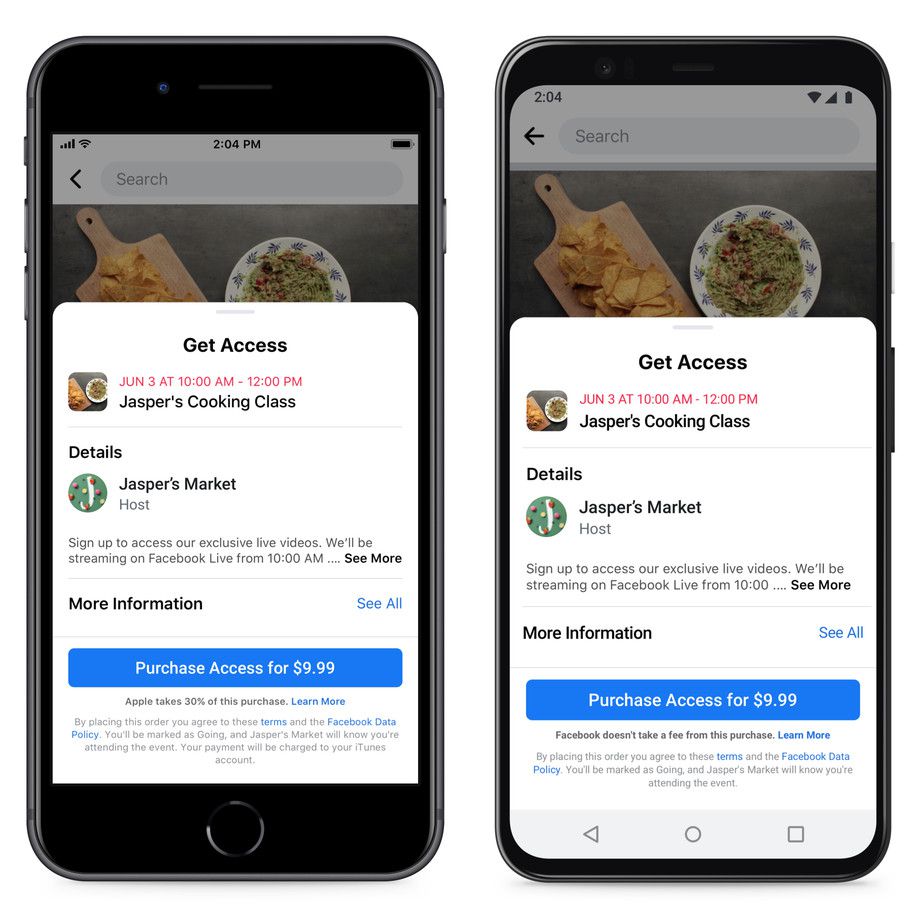 "This is a difficult time for small businesses and creators, which is why we are not collecting any fees from paid online events while communities remain closed for the pandemic," said Facebook spokesperson Joe Osborne. "Apple has agreed to provide a brief, three-month respite after which struggling businesses will have to, yet again, pay Apple the full 30% App Store tax."