Apple has started showing prompts to iOS 15 users asking if they want to turn on 'Personalized Ads' in its own apps including the App Store and Apple News.
Previously, Apple's ad targeting, which it calls 'Personalized Ads', was enabled by default and users had to head to their Settings to turn it off.
''We protect your privacy by using device-generated identifiers and not linking advertising information to your Apple ID,'' says the company in the prompt which is currently shown to iOS 15 beta users when they open the App Store. ''Turning on Personalised Ads increases the relevance of ads shown by letting us use data like account information, app and content purchases, and, where available, the types of News stories you read.''
The Iphone-maker says that it won't track users and share their personal information with any third-parties. It also added a 'Learn More' link where they can get further information.
After enabling or disabling Personalized Ads, users will be able to change their preferences in their Settings like before.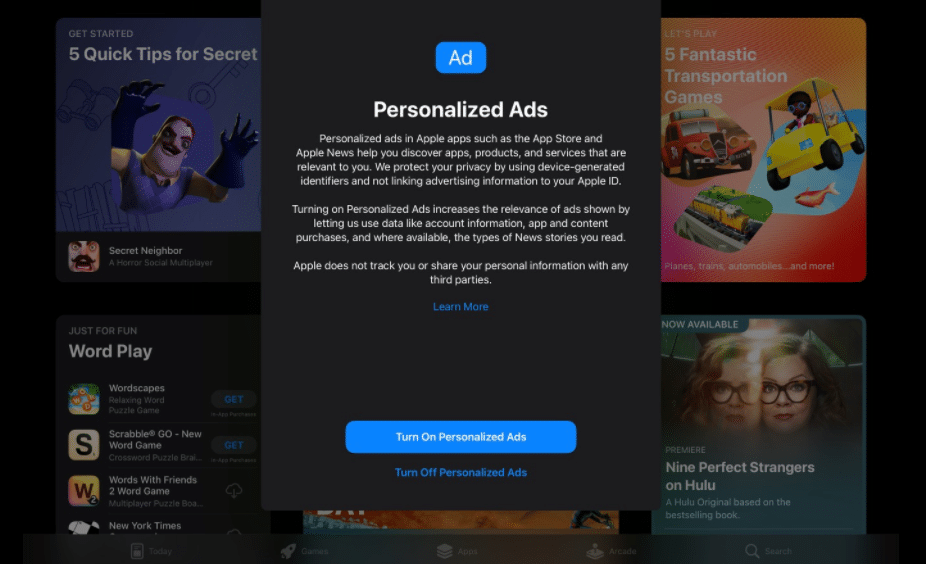 Earlier in April, Apple's controversial App Tracking Transparency (ATT) came into effect forcing developers to get user permission for ad tracking and the iPhone-maker has been heavily criticized since then for limiting advertisers' ability to show relevant ads when it had the ability to do the same thing in its own apps without asking consent. It also resulted in many countries putting the company under antitrust scrutiny.
The new prompt could be a way of the company showing that it's also obeying the rules which it requires developers to obey, or it might have been added due to the legal problems it's facing.
Last week, the company announced that it settled a US lawsuit and would let developers use communications such as email to inform their users about external payment methods, as part of the agreement.
In addition, as a result of the Japan Fair Trade Commission's App Store investigation, the tech giant announced on Wednesday that it would now let developers of 'reader' apps link to external websites so that users can manage their accounts directly in their own websites.