Popular social media platform TikTok is changing its personalized ad policy as of April 15. With the changes, TikTok users will start receiving ads in the app according to the type of content they are interested in, whether they want it or not.
The app already has a setting that allows users to choose whether to serve ads based on their activity within the app. According to a notice TikTok users are starting to see, as of April 15, TikTok will no longer allow users to opt out of personalized ads "based on the data TikTok collects from your actions on the app." However, you will still be able to opt out of ads that based on data TikTok gets from its "advertising partners".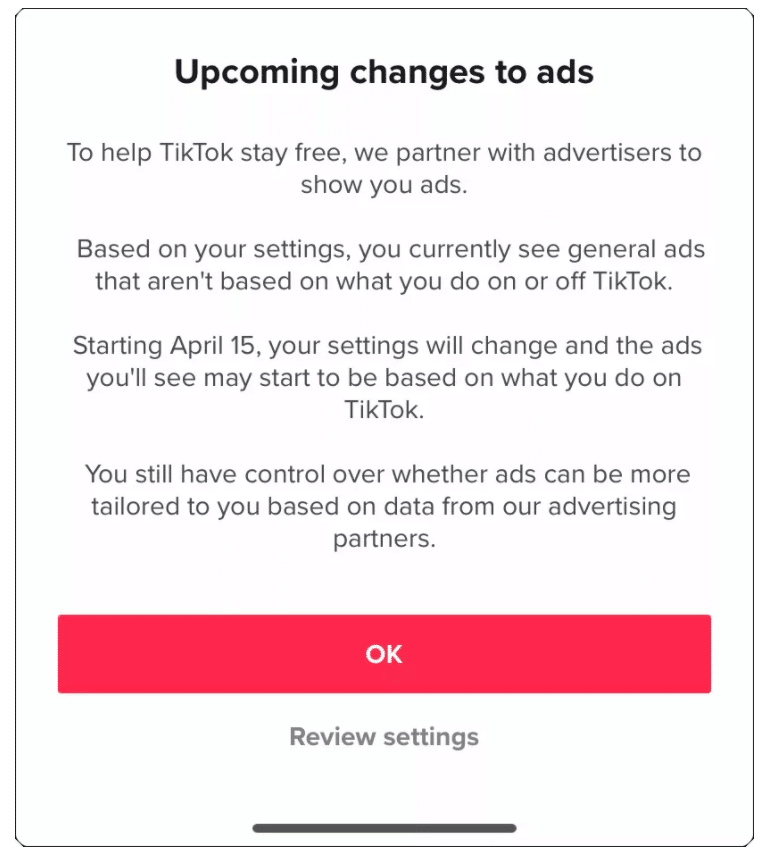 According to Recode, the only exception here is users based in the European Union, which is covered by the General Data Protection Regulation (GDPR) and requires businesses to get users' consent.
"Our goal is to help businesses reach the people they care about in a creative and meaningful way, while also respecting the privacy of our users," TikTok told Recode. 
"As our advertising platform matures, we continue to be transparent with our users about their choices with respect to personalized advertising on our platform."
This change in the company's advertising policy and privacy settings reflects the current functioning of ads on many social media apps such as Twitter, Facebook, Instagram, and Snapchat. Users can disable personalized ads based on tracking on third parties. However, it is not allowed to cancel the personalized ads based on activities within these apps.
"We will continue to be transparent about our data privacy practices and help users understand their privacy choices on our Safety Center," TikTok said.
In fact, it is not surprising to see that apps aiming to prevent drop in ad revenues, following Apple's upcoming app tracking transparency feature, make such changes in privacy policies. 
WhatsApp's terms and privacy policy update, which mandates data-sharing with all Facebook apps, will also be live May 15th and users who don't accept its privacy policy before this date will not be able to send and receive messages. 
In this context, Instagram has also started to show pop-ups in order to urge users to make ads more personalized to 'provide a better ads' experience.