Apple's controversial App Tracking Transparency (ATT) framework, which came into effect recently with the launch of iOS 14.5 preventing developers from tracking users without their permission, has brought along a new confusion around the use of fingerprinting, as reported by Digiday.
While Apple explicitly doesn't allow the use of fingerprinting for the purpose of uniquely identifying the device or the user, it's a type of ''probabilistic attribution'' solution which is matching data gathered from a device to predict whether an ad resulted in a download, instead of uniquely identifying it.
This is where even some of the largest mobile measurement companies fail to reach a consensus. While most of them feel that probabilistic matching complies with Apple's new measures, the iPhone-maker hasn't clarified the issue yet.
---
iOS 14.5: Apps are in no hurry to implement Apple's ATT
---
"Apple will have to keep a close eye on these approaches and enforce ATT against any implementations that are in violation, or risk the policy being completely toothless and consumer privacy commitments not being honored," said Nicole Perrin, analyst at eMarketer. "And if that were to happen, I expect the industry will wise up to the ongoing lack of enforcement, encouraging everyone to take these steps to maintain a level playing field."
Mobile measurement company Adjust recently sent an email to its customer announcing that its ''fingerprinting'' solution would be renamed to ''probabilistic matching'' by May 20, stressing that they are not interchangeable. Company CEO Paul Müller also shared a blog post where he explains the difference between the two terms.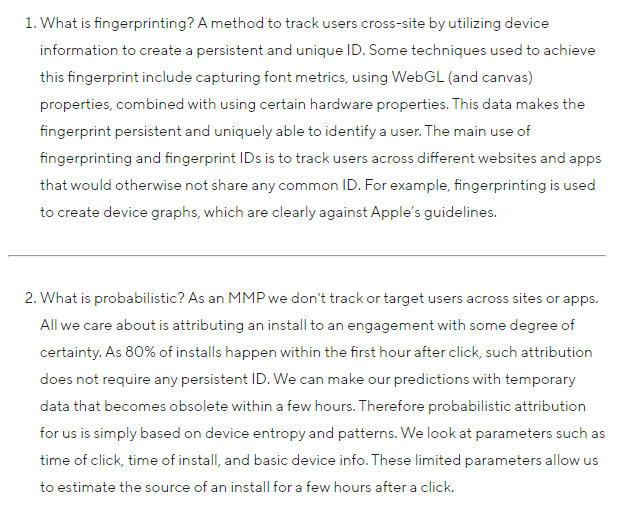 While the CEO believes the use of probabilistic matching shouldn't be a problem for Apple, he still advises clients to check out Apple's privacy policy and make their own decision whether it complies with the new measures.
---
Also Read: Apple to bar apps that offer users incentives for enabling app tracking
---
Digiday notes that if Apple decides to enforce App Tracking Transparency in a more meaningful way, this could be a problem for the iPhone-maker.
If an app owner pays another app owner to place their ads, Apple calls this tracking because the owners will match their data for ad tracking and measurement. It also hasn't clarified yet whether data matching done by only one of the companies complies with its rules, however explicitly says that any tracking activity must have user consent.
"Ultimately these solutions will not work," said Liam Brennan, MediaCom's Global Director of Innovation. "When it comes to the conversation around user privacy and changes in the ID space, stopgaps are just weaker solutions or ways to try to avoid the 'privacy police' until they get caught."
It doesn't mean that other types of probabilistic attribution could constitute a problem for Apple. However, Apple still needs to be more clear about its restrictions.
"This lack of certainty is causing major issues for the ecosystem because anyone who truly wants to follow the spirit of the ATT policy is at a major competitive disadvantage right now," said Alex Bauer, Branch's Head of Product Marketing & Market Strategy. "Even the most sincere companies can't sustain that forever if Apple doesn't follow through with what they've promised."
Meanwhile, attribution firms AppsFlyer and Singular both believe that Apple won't approve the use of probabilistic attribution without user consent, however, there could be exceptions. For example, if a company is the owner of both the media in which the ad is shown and the app which it promotes, it means there's only one company promoting a product so it doesn't share data without consent.
Singular offers a configuration option which its clients are required to use in order to turn on probabilistic attribution so that they can track the performance of ads across their own media. AppsFlyer also offers a similar option which provides aggregated data, instead of unique user data, by default.
Charles Manning, Kochava CEO said: "We appear to be the only measurement and attribution provider that is complying with Apple rules. Apple does not say — it's okay to match data from two separate companies provided that the data isn't shared — or provided that it's only exposed with a config switch."
"Several ad networks are encouraging non-compliance by suggesting that brands should work with an MMP that doesn't comply in order to get access to more inventory.'' he added. ''This creates incentives for non-compliance, and it's incumbent upon Apple to enforce their own rules."