On Thursday, Apple shared the results of an independent study by Analysis Group, which found that App Store revenue of small developers increased by 71% in the last two years. During the same period, small developers based in the United States saw an 83% increase in their revenue on average, the company said.
According to the iPhone-maker, small developers are those who earn less than $1 million from the App Store and get less than 1 million downloads for their apps within a single year. Following the beginning of the Fortnite-drama, the company reduced its controversial in-app purchase fee from 30% to 15% for these developers, who it said make up 90% of all developers on the iOS marketplace.
---
Also Read: Apple wins appeal in Fortnite-maker Epic's App Store case
---
''Developers of all sizes have built successful businesses while benefiting from the App Store's global reach in 175 countries and over 40 languages, and Apple's installed base of over 2 billion active devices around the world,'' Apple wrote in a blog post where it shared the results of the study.
''In 2022, nearly 80 percent of small developers were active on multiple storefronts and about 40 percent of total app downloads from all small developers came from users outside of each developer's home country. Additionally, the economists found that developers who monetize their apps by selling digital goods and services on multiple storefronts have earnings from users on more than 40 storefronts on average,'' the tech giant added.
The study also found that the App Store has played an important role in helping small teams achieve a global presence. A significant number of developers who earned more than $1 million in 2022 were initially classified as small developers, the research found. Out of these developers, 40% either wasn't active on the App Store or earned less than $10,000 in revenue five years ago.
---
Also Read: App Store developers have generated $320 billion to date, Apple says
---
Furthermore, the research also revealed that of new developers that joined the App Store last year, 25% were from Europe, 23% from China, 14% from the United States, 4% from Japan, and 35% from other markets such as South Korea, India, and Brazil.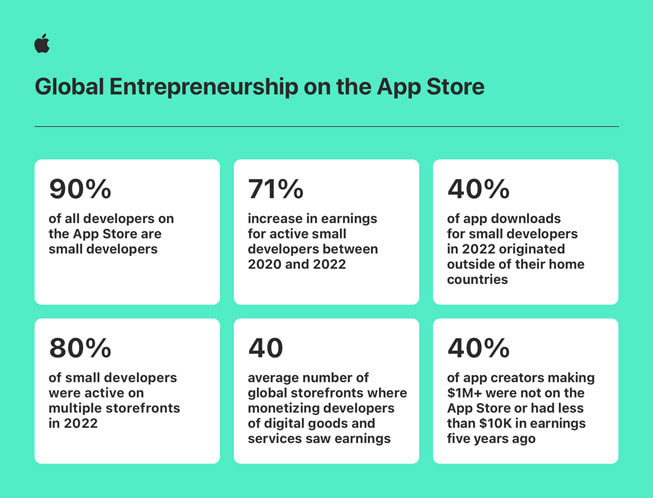 While Apple has repeatedly argued that the App Store has helped small developers grow their reach and revenue, the company has also been under regulatory scrutiny around the world over alleged abuse of its dominance in the mobile apps market.
In February, the Biden administration said that Apple and Google stifle competition in the app ecosystem and play ''a significant gatekeeping role by controlling (and restricting) how apps are distributed''.''
Yesterday, Italy's antitrust watchdog AGCM announced that it launched an antitrust investigation into Apple for allegedly disadvantaging third-party developers.