A recent survey conducted by LG Ads indicates that streaming ads are now considered more influential in informing holiday purchases compared to mobile ads. This shift in consumer preference highlights the growing importance of streaming platforms as an advertising medium during the holiday season.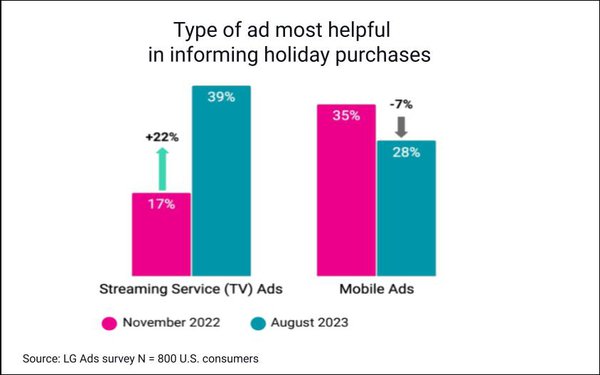 Streaming ads were chosen by 39% of respondents as the most helpful in influencing holiday purchases, marking a significant increase from the previous year's 17%. This surge in popularity placed streaming ads ahead of mobile ads, which saw a decline from 38% to 28%.
Despite concerns about inflation, 76% of respondents stated that they plan to spend the same or more on holiday purchases compared to the previous year. Additionally, 30% intend to start their holiday shopping in October or earlier.
An overwhelming 86% of participants reported doing some of their holiday shopping online while watching TV. Mobile phones remained the primary device for holiday purchases (73%), followed by laptops/desktops (66%), and tablets (34%). Notably, 20% of respondents reported making holiday purchases via smart TVs.
Streaming emerged as the preferred medium for watching holiday content, with 54% of respondents using it for this purpose. This was followed by broadcast/cable/satellite (35%) and purchased media (12%).
When it comes to holiday TV shopping ads, consumers prioritized deals as their top consideration, followed by "personalized, relevant ads," and ads that facilitate direct buying, such as those featuring QR codes.
More than half (53%) of respondents claimed to remember holiday shopping ads on streaming TV, and nearly 40% indicated that they searched online or visited a website after seeing a connected TV ad.
A significant 57% of viewers reported having a favorable opinion of brands that advertise on free, ad-supported streaming services (FASTs).
After the holiday season, 85% of participants expressed their intention to continue shopping for additional deals, while 92% planned to use gift cards received during the holidays.
When it comes to preferred holiday content genres respondents cited "classics" (75%), comedy (60%), kids/family content (52%), music specials (39%), action (31%), and "so bad it's good" (26%) as the genres they watch.
Based on cumulative watch time data from LG Ads' ACR data, "Home Alone 2: Lost in New York" emerged as the most-watched holiday content from the previous year.
These insights emphasize the significance of streaming ads in influencing consumer behavior during the holiday season and highlight the continued evolution of advertising strategies in response to changing media consumption patterns.
Additionally, a recent report showed that the holiday season approaching made retailers embrace mobile apps, recognizing the importance of them as they drive profitability and boost online sales.