Back in March, Spotify announced it was acquiring Betty Labs, the company behind the live audio app Locker Room to accelerate its entry into the revitalized social audio market with Clubhouse.
Today, the company announced the launch of Spotify Greenroom for iOS and Android available in 135 global markets. It is a new social audio app that allows users to participate or host live audio rooms and optionally turn those conversations into podcasts.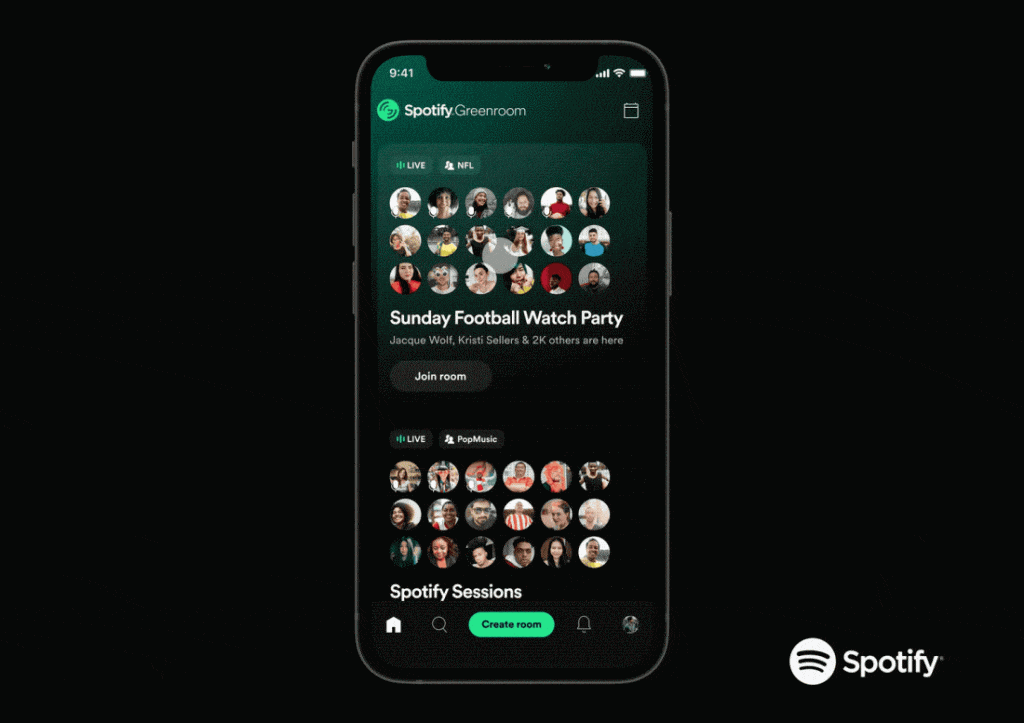 The free social audio app, which is based on Locker Room's existing code, allows users to sign up with their Spotify account, although it is not required.
"Since bringing the Locker Room app into the fold, we've been working to expand its capabilities, with the goal of creating a live audio experience that will delight creators and listeners everywhere. And we wanted to do it with a Spotify twist that operated as an extension of the app already loved by 356 million listeners. That's why we renamed it "Spotify Greenroom," the company said in a statement.
Spotify Greenroom includes a new look and feel with a new branding, recording capabilities to let users complement their on-demand content with live conversations, and chat controls. Using the app, users can join a group, search for upcoming rooms, join a room, or create a room.
Spotify also announced a Spotify Creator Fund to allow creators in the United States monetize their content and their community on the app. The company has opened the registration for the fund and it will go live and begin payouts later this summer. Creators who want to register for the fund can make their registration by downloading the Greenroom app, creating their account, and filling out the registration form.
"Payouts are calculated weekly and based on a number of relevant factors, including the consumption of each creator's live audio content and audience size. Creators can earn funds every week with no limit on the number of times they can earn." the company said.
Almost all of the big tech companies are interested in social audio. Following the launch of Clubhouse on iOS, tech companies like Twitter, Facebook, Slack, Linkedin, Reddit, and Discord have started building similar products or features. In early May, Clubhouse launched its Android app and it surpassed 2 million downloads in just one month.