Reddit today unveiled its Clubhouse clone, 'Reddit Talk', that allows users to host live audio conversations in their communities.
"Currently, you can use text threads, images, videos, chats, and live streams to have conversations and hang out with people in your communities. While these are great mediums, there are other times where having a live audio talk may be more useful or, frankly, more fun. So we want to partner with you to explore a new way for community members to communicate with each other." Reddit said in the announcement post.
In Reddit Talk, only a community's moderators are able to start a talk. Once a moderator starts a talk, redditors are able to join the room to listen in and reach with emojis.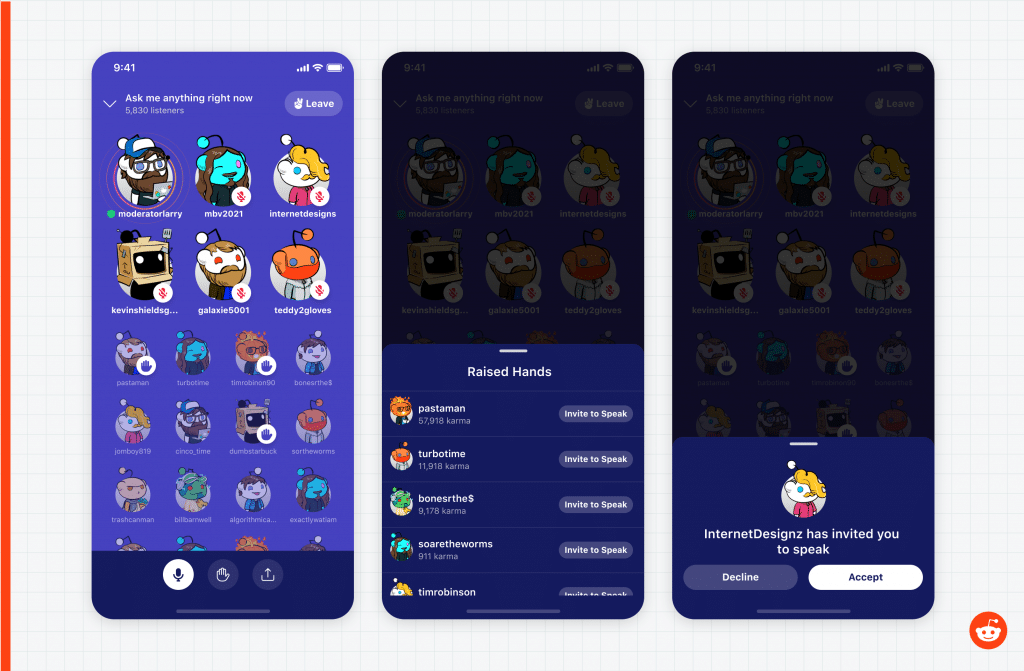 You can sign up for Reddit's waitlist if you are interested in trying out the feature. As in the Clubhouse, listeners can raise their hand for the host to invite them to speak.
Moderators can invite, mute, and remove speakers during a talk. They can also remove unwanted users from the talk entirely and prevent them from rejoining. Only moderators can start talks during early tests, but they can invite trusted speakers to co-host a talk, Reddit says.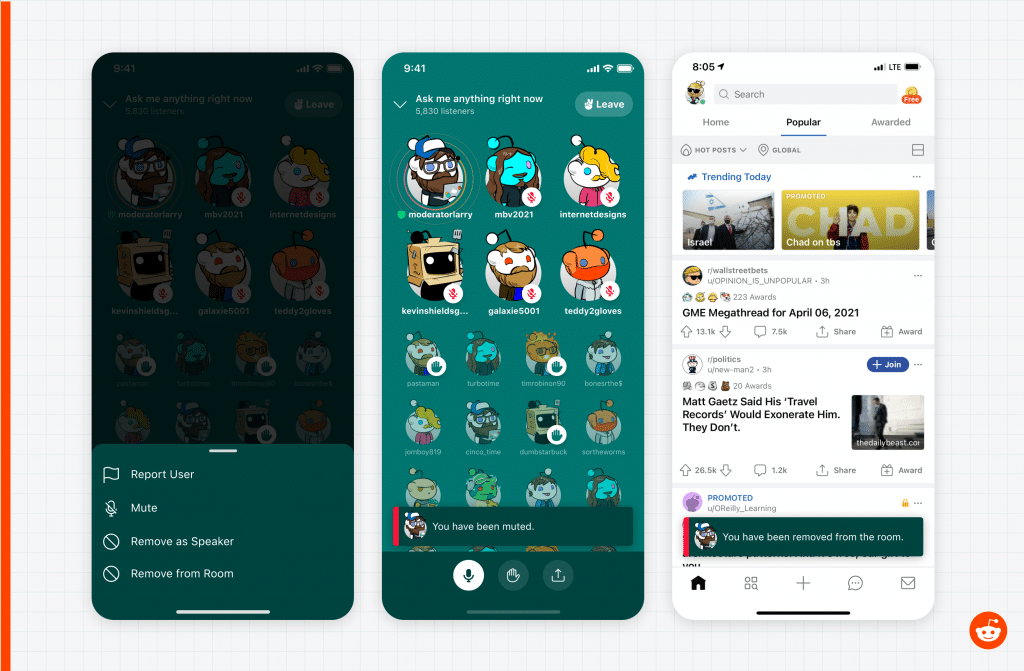 Reddit also stated that it is looking for ways for moderators to customize the look and feel of Reddit Talk through emojis and background colors, as well as their avatar appearance to fit the talk. It is also testing features to support AMAs and other types of conversations.
Reddit emphasizes "During early tests, only moderators will be able to start talks, but any redditor on iOS and Android can listen in."
Reddit Talks comes on the heels of Clubhouse's latest fundraise.
Reddit is not the only company working on Clubhouse-like audio-chat features. Discord launched Stage Channels feature for audio events, LinkedIn confirmed that it is building a Clubhouse rival, Twitter Spaces is rolling out this month, ByteDance is reportedly building a clone, Facebook is getting prepared to announce on Monday a suite of new audio products, Spotify acquired live audio app Locker Room, and Slack is cloning one.