Netflix has announced that it started rolling out its TikTok-like short video feature 'Fast Laughs' to iOS users in select markets.
The streaming giant began testing the feature last year but with a limited user base. The feature is now available for more iOS users in select countries and Android tests will start soon, the company said in its official blog post.
Fast Laughs will allow users to discover new comedy shows, series and sitcoms including Murder Mystery, Big Mouth and The Crew, and also stand up from comedians like Kevin Hart and Ali Wong, by watching their short video clips from 15 to 45 seconds long.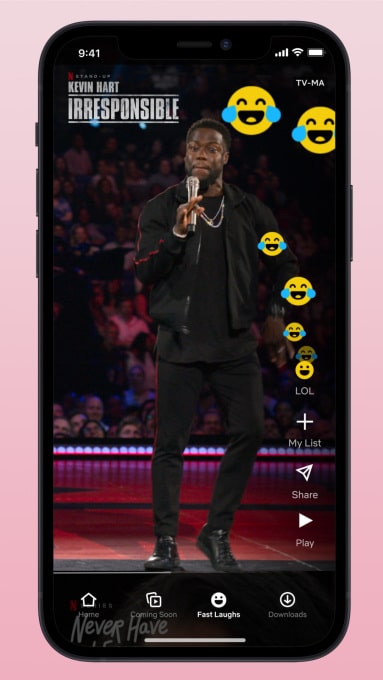 Users will be able to access their feed by clicking the Fast Laughs icon located in the bottom navigation menu. After watching a short clip, you'll be able to react to it with emojis, add it to your list, share it with your friends or start watching it by tapping the Play button.
---
Also Read: Netflix launches 'Downloads For You' feature on Android, iOS version coming soon
---
''We wanted to give members a fun, fast, and intuitive way to discover our catalog by letting these comedic moments across genres speak for themselves in a mobile-native, full screen experience," said Kim Ho, Product Designer at Netflix.