Architecture, a reflection of humanity's centuries-old aesthetic and functional understanding, intersects with the innovations of modern technology today. It is at this juncture that iPad Pro architecture apps come into play. These exceptional applications allow architects to expand their creative potential limitlessly, whether envisioning expertly designed buildings or pushing the boundaries of existing structures. Teaming up with the iPad Pro, these apps offer users a unique design experience, enabling them to carry a digital studio alongside them as they envision the future's edifices. In this article, we covered the unparalleled advantages offered by iPad Pro architecture apps and closely examined the transformation of the world of architecture. Without further ado, here are the iPad Pro Architecture apps!
Adobe Creative Cloud
Price: Free/In-App Purchase: Up to $149.99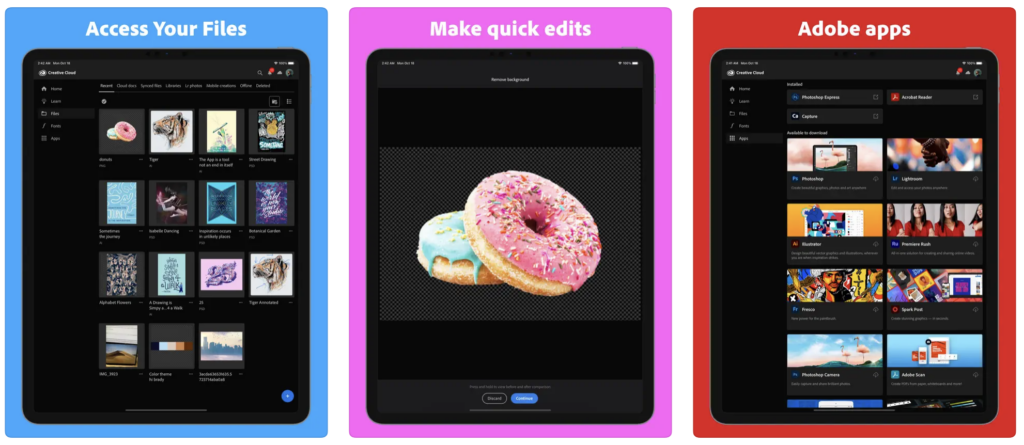 Adobe Creative Cloud is a versatile suite of iPad Pro architecture apps that empowers designers and architects with a wide range of tools. With its integration across different software like Photoshop, Illustrator, and more, it offers seamless creativity.
Also, architects can create stunning visualizations and designs using the power of cloud-based collaboration. Whether sketching initial concepts or refining intricate details, Adobe Creative Cloud provides the essential tools to bring architectural visions to life.
Adobe Creative Cloud on the App Store
Morpholio Trace – Sketch CAD
Price: Free/In-App Purchase: Up to $19.99

Morpholio Trace – Sketch CAD is a must-have app for architects using iPad Pro. Its intuitive interface and precise sketching tools make it ideal for quickly capturing design ideas on the go. The app seamlessly combines hand-drawn sketches with digital precision, allowing architects to create detailed plans and concepts. With Morpholio Trace, transforming initial sketches into sophisticated architectural drawings becomes effortless.
Morpholio Trace – Sketch CAD on the App Store
---
Also Read: The 8 Best Free Drawing Apps for iPad
---
Concepts
Price: Free/In-App Purchase: Up to $29.99

Concepts is a popular architecture app for iPad Pro that architects will find indispensable. It's infinite canvas and flexible tools enable the creation of intricate architectural sketches and diagrams. With real-time collaboration features, architects can work together seamlessly, whether on the same project or across different locations. Concepts' adaptability and precision make it an excellent choice for architects aiming to elevate their design process. For more details, go to Concepts' website.
Adobe Photoshop
Price: Free/In-App Purchase: Up to $149.99
Adobe Photoshop, now optimized for iPad Pro, brings unparalleled photo editing capabilities to architects and designers. Beyond its renowned image editing tools, Photoshop's features cater to architectural needs. From enhancing project photos to creating visually striking presentations, architects can harness the app's potential to craft captivating architectural narratives.
Adobe Photoshop on the App Store
---
Also Read: The 9 Best iPad Pro Apps
---
Planner 5D
Price: Free/In-App Purchase: Up to $69.99
Planner 5D is a user-friendly app that empowers architects to visualize their design concepts in 3D. With its extensive library of objects and materials, architects can create immersive architectural walkthroughs and presentations. This app allows precise placement and manipulation of elements, enabling architects to experiment and refine their ideas effortlessly, and it stands out among the iPad Pro Architecture apps! To learn more, visit the website of Planner 5D.
Procreate
Price: $12.99
Procreate is a versatile app that architects can use to showcase their creativity and ranks among the iPad Pro architecture apps. While it's known for its impressive digital painting capabilities, Procreate can also be leveraged to create architectural sketches and renderings. With its vast selection of brushes and layers, architects can add depth and realism to their designs, making Procreate a valuable addition to their toolkits. Go to Procreate's website to learn more.
---
Also Read: The 7 Best Calculators for iPad
---
Shapr 3D CAD modeling
Price: Free/In-App Purchase: Up to $499.99

Shapr 3D CAD Modeling is a professional-grade application tailored to architects and designers. The app offers a robust set of 3D modeling tools that empower users to create intricate architectural models on their iPad Pro. Architects can iterate and refine their designs in a portable environment, making it an ideal choice for those seeking a comprehensive CAD solution on the go, and it stands out among the iPad Pro Architecture apps. For more information, explore the website of the app.
Shapr 3D CAD modeling on the App Store