A newly released report by AdQuantum indicates that despite a significant drop in health and fitness app downloads following the pandemic, retention rates and revenue have shown an increase. 
The study, which analyzed trends in app downloads, usage, and consumer spending from Q1 2020 to Q4 2022, sheds light on the health and fitness app industry before and after the pandemic, highlighting significant changes as the world returns to normalcy from the rise of at-home fitness during COVID. 
As seen on the report, health and fitness app downloads in Q4 2022 exceeded 290 million on the App Store and Google Play, marking the lowest quarterly figure since Q1 2020, when there were 417 million downloads.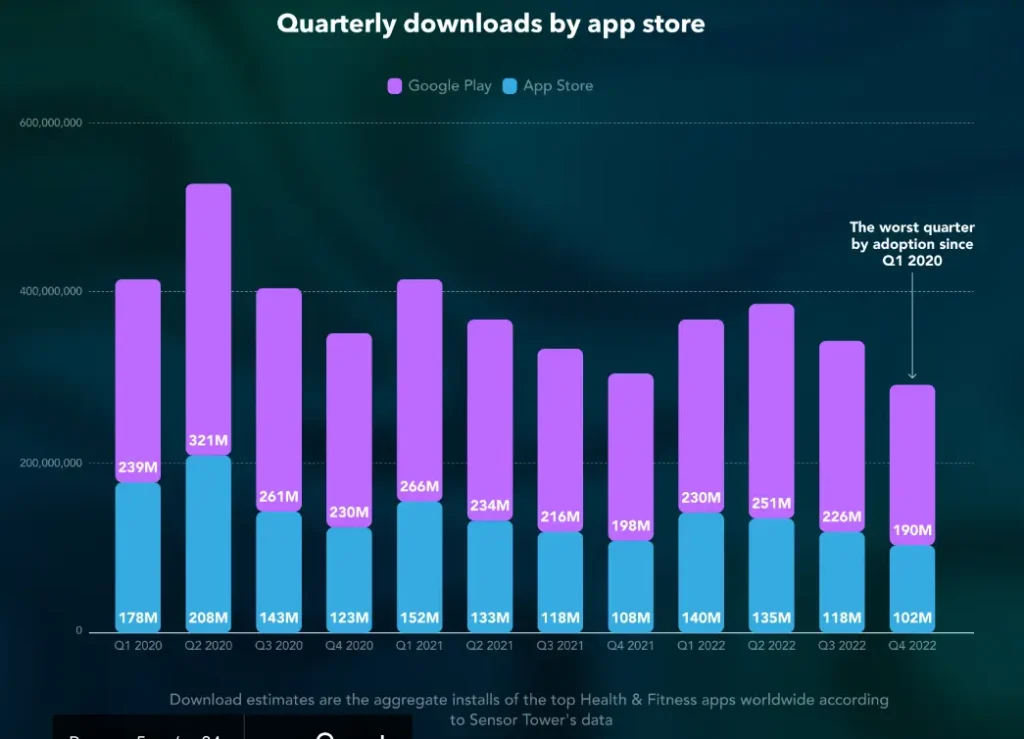 During the pandemic, fitness apps saw significant growth and maintained their momentum better than at-home connected fitness companies like Tonal and Peloton. The health and fitness app market generated $1.7 billion in revenue in 2022, increasing by $300 million from the previous year and $600 million from 2020.
Apps offering tailored workout routines, meditation, and diet plans saw a significant boost in downloads during the pandemic lockdown. Despite a return to normalcy, some of these apps retained their popularity. In 2022, there were 1.4 billion health and fitness app downloads, signifying that consumers continue to embrace apps for their wellness journey. However, the number of app installations gradually decreased after 2020, which AdQuantum attributes to the resumption of in-person activities.
The pandemic's impact on the health and fitness app industry might suggest that the surge in demand wasn't entirely organic. With people stuck at home and fitness facilities closed, consumers turned to apps or at-home hardware out of necessity. Additionally, having extra cash due to canceled or paused gym memberships contributed to the increased usage.
Despite a decline in app installations, retention rates and stickiness have seen a rise. For instance, sessions have increased by approximately 1%, with an additional 1% increase this year compared to Q4 2022.
The report demonstrates that consumers who downloaded apps during the "install boom" have been retained. Retention rates in Q3 of 2021 were 25% for Day 1, and by Q3 of 2022, it increased to 35%.
Similarly, Q4 2021 saw a 21% retention rate, which further rose to 38% by Q4 2022. Health and fitness apps saw an increase in their overall user engagement and retention, starting at 15% and 14% in Q3 and Q4 of 2021, respectively, reaching 20% in Q3 2022, and 21% in Q4 2022.