An Indian TikTok user recently posted a video in which he threw liquid at a woman's face and glorified acid-attack against women. Later, Indian users shared millions of negative app reviews to remove TikTok from the platform and Google deleted more than 5 million of these reviews to prevent spam abuse.
A TikTok user named Faisal Siddiqui, who 'had' more than 1 million followers on the platform, recently shared a video in which acid attacks against women was glorified. In the video, Siddiqui threw liquid at a woman's faced who refused him. The liquid was not really acid, but the makeup on the woman's face resembled the effects that an acid attack can cause.
Soon after, TikTok announced that it had removed the video and its copies from the platform.
''As per the policy, we do not allow content that risks the safety of others, promotes physical harm, or glorifies violence against women. The behaviour in question violates our guidelines and we have taken down content, suspended the account, and are working with law enforcement agencies as appropriate.''

A TikTok Spokesperson
The owner of the video said:
''As a social media influencer, I realise my responsibility and apologise to anyone who was offended by the video.''

Faisal Siddiqui
At the same time, Indian users started leaving millions of negative reviews for TikTok to get removed from the platform. As a result, the average app rating of the popular social media app dropped from 4.5 to 1.2 within hours.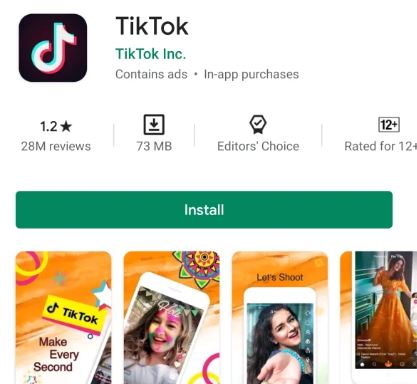 Thereupon, Google removed more than 5 million negative comments to prevent spam abuse.
"When we learn of incidents of spam abuse, we review and take corrective action to remove inappropriate ratings and comments."

A Google Spokesperson
Source: BBC
Currently, its average app rating is 2.9 on the Android platform.

What do you think?