We continue our series where we pick the best iOS & Android apps and introduce them to you. If you haven't seen our previous articles, you can visit our Hot Apps page first. In today's article, we will be talking about a trending shopping app: Poshmark – Buy & Sell Fashion.
If you like shopping online without having to go out and spend tons of money on the items you'd like to buy, or if you like to sell items you don't use anymore and turn them into cash, then you'll be a big fan of the best iOS app of the day.
Poshmark – Buy & Sell Fashion, is already the second shopping iOS app in the USA and Canada. Let's dive in and learn more about the Poshmark app.
What is Poshmark – Buy & Sell Fashion?
Poshmark is one of the most favourite iOS apps of online shoppers and sellers, especially in the USA and Canada. With more than 7000 brands, it makes it very easy for its users to get the items they want at very economical prices. The shopping app also allows its users to sell their clothes that they don't use anymore, in less than 60 seconds and make money out of them.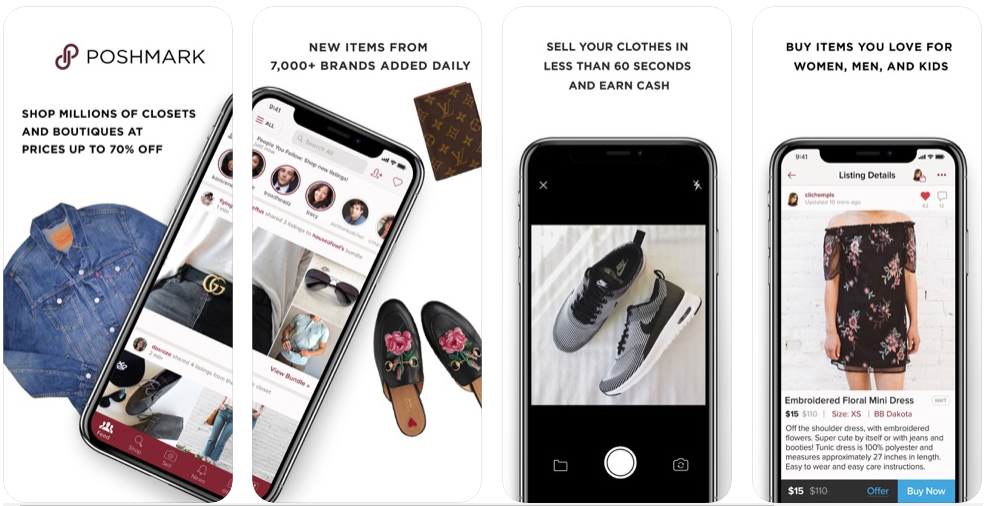 There are so many other things that you can do with this iOS app. You can even get an idea about what to wear for your upcoming birthday from the Stylists in the app.
Here is a video about Poshmark, the best iOS app of the day.
Now, let's see how it's doing on the App Store.
App Rankings of Poshmark – Buy & Sell Fashion
As we said above, the iOS app is very popular, especially in the USA and Canada. Let's start with the United States.
According to App Annie, Poshmark is currently the second iOS app in the US Shopping category and the 26th one in the US Overall category.
How about Canada?
As you can see above, there is a little decrease in Poshmark's rankings in the Overall category. But the trending app is still the second one in the Shopping category.
App Reviews & Ratings of 1 Second Everyday
The app ratings and reviews in the Google Play Store and App Store determine the fate of the mobile apps. Now let's take a look at what users think of Poshmark.
Currently, the popular shopping app has more than 170.1K app ratings! The average rating is 4.7 out of 5. This is a very strong sign that its users are very satisfied with this iOS app.
System Requirements Of The Poshmark App
This shopping app is compatible with iPhone, iPad and iPod Touch. Keep in mind that it requires iOS 10.0 or higher, and you need 94.8 MB free space on your Apple device.
Download The Poshmark App
To download the Poshmark app from the App Store, all you need to do is to click here. Need more information about it? Click here for the developer's website. 
Today, we talked about Poshmark, the best iOS app of the day. Feel free to visit our website for more articles like this one. We'd be very happy if you'd leave your comment and share your ideas and recommendations with us!