Apple announced a new security feature named 'Lockdown Mode' to provide 'extreme protection' to users targeted by sophisticated cyberattacks. The optional feature will be available in iOS 16, iPadOS 16 and macOS Ventura which are expected to arrive this fall.
The tech giant said that while most of its users won't be subjected to highly-targeted cyberattacks, the new Lockdown Mode will provide extreme protection to 'very few users who, because of who they are or what they do, may be personally targeted by some of the most sophisticated digital threats, such as those from NSO Group and other private companies developing state-sponsored mercenary spyware.'
When users feel they're targeted by a sophisticated spyware, they will be able to turn on the Lockdown Mode by navigating to the Privacy & Security section in their device settings and restrict certain apps, websites and features, minimizing the possibility of the spyware taking control of the device.
When turned on, the Lockdown Mode will block messages (excluding images) in the Messages apps, FaceTime calls from users not contacted before, incoming invitations for Apple services, limit web browsing features including JIT and prevent configuration profiles from being installed on the device.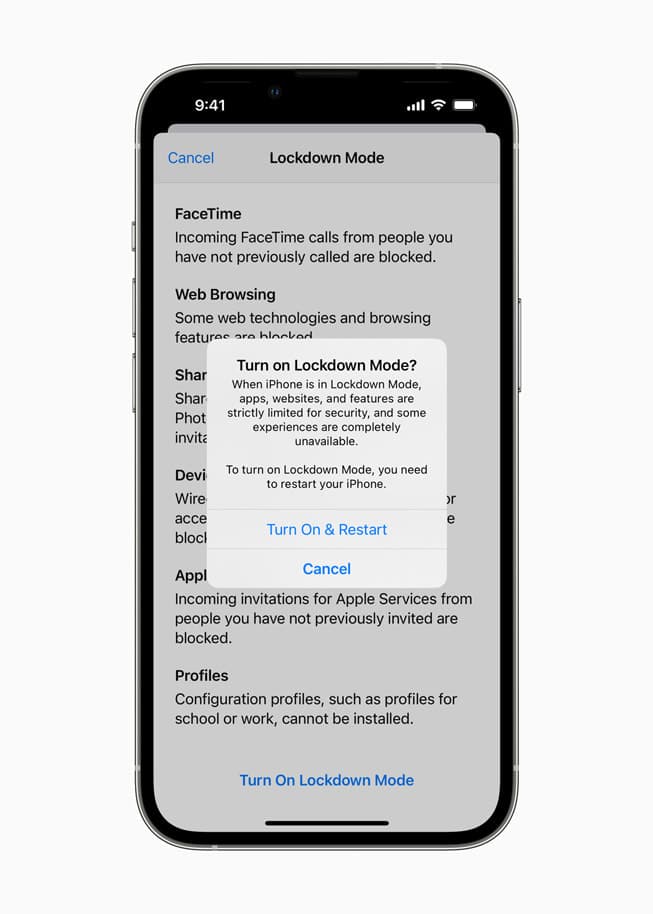 The iPhone-maker said that it'll keep improving the Lockdown Mode and add new features to it over time. It also announced that it added a new category to its Security Bounty program as part of which it will award users up to $2 million if they find bypasses and provide valuable feedback.
In addition, the company announced a $10 million grant to Dignity and Justice Fund of the Ford Organization to support researchers working on investigation and prevention of highly-targeted cyber attacks.
Damages awarded in its lawsuit against NSO Group, the developer of the Pegasus spyware, will also be donated to the fund, the iPhone-maker said.