Reddit announced Thursday the launch of its new native ad unit named ''Conversation Placement'' which will appear within conversation threads on the popular platform, below the original post and above the first comment.
"Reddit users thrive on conversations and are highly engaged in unique dialogues around their passions. Conversation Placement is an opportunity for all Reddit advertisers to drive engagement on the platform, positioning themselves right where people are connecting with one another, in a way they can't on any other platform," said Harold Klaje, Reddit's Global EVP and President of Advertising.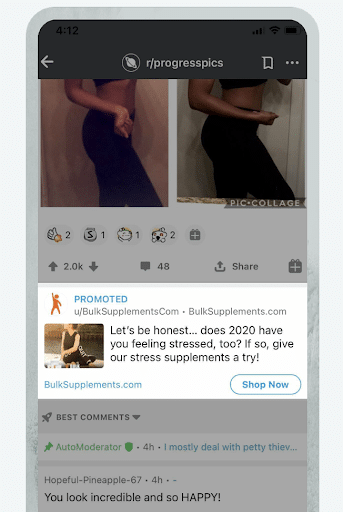 The company said that it beta-tested Conversation Placement for over a year with more than 600 advertising partners including HBO Max, Adobe, Monday.com, The Washington Post and Nespresso. 
On average, the partners experienced a 9% increase in click through rate (CTR), 10% increase in downstream conversion rate (CVR) and 23% decrease in Cost Per Click rate (CPC) after running both Conversation Placement and Feed ads.
Founded in 2005, Reddit currently hosts 100,000 active subreddits and 52 million daily active users worldwide. The company said that users contribute to over 350,000 conversations on the platform on a daily basis, with 42% of their time being spent in conversation threads.
---
Also Read: Reddit Revenue & User Statistics (2021)
---
The news comes 4 months after the company announced that it would no longer support programmatic advertising on its platform. Following the announcement, the company saw a 192% Y/Y increase in its ad revenue which surpassed $100 million for the first time in Q2 2021.