Israel-based mobile games developer & publisher Playtika Ltd. announced on Monday that it's launching a special recruiting app that will help candidates pass through each stage of the company's hiring process.
When candidates pass their initial interview, Playtika will send them an invitation email to log into its new onboarding app where they can find a comprehensive roadmap with highly useful information to make the process much easier.
---
4+ Playtika Ltd. job openings are currently available on MMR Jobs.
---
Using Playtika's new recruiting app, candidates will be able to find out who their interviewer will be, what they do at Playtika, for how long they've been working there and more before joining the interview.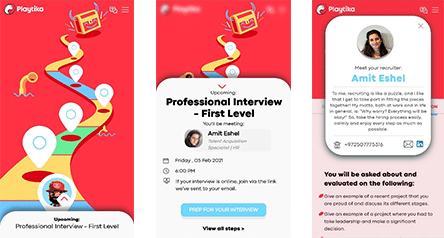 The app will also answer other key questions such as what they will be interviewed about, the required know-hows, software, skills, education and if there's any tip to help them prepare for the interview.
---
Also Read: Mobile game developer Playtika secures $1.88 billion via IPO
---
''We put a lot of thought, work and fun into our app – which we started working on over a year ago (even before the pandemic), after carefully reviewing feedback on our hiring process.'' said Yael Yehudai, SVP Global HR at Playtika. ''We tested the app with the Israeli market on selected position, and will gradually roll out to the rest of the world.''
''We hope our new candidates will find using the app gives them more visibility, clarity, control and adding that little Playtika playful touch to the process – fun.''