Consumers in the United States spent a record $11.3 billion shopping online during this year's Cyber Monday, according to a new report from Adobe (via TechCrunch). This marks a 5.8% increase from the $10.7 billion Americans spent last year.
Meanwhile, Thanksgiving spending hit $5.29 billion and Black Friday sales reached $9.12 billion, both exceeding previous projections. Consumers also spent $9.55 billion during the weekend in between.
Total sales are expected to reach $35.27 billion during the ''Cyber Week'', which covers these holidays and weekdays following Cyber Monday when people return to work but keep shopping online. That represents a 4% growth from last year's figure, and will make up 16.7% of all online sales in November and December which is expected to reach $210.1 billion, according to Adobe.
While Americans are undoubtedly feeling the effects of inflation, the growth was largely driven by more transactions consumers made, Adobe said, adding that its digital price index, which analyzes prices of goods across a total of 18 categories, found that the prices remained almost unchanged in the past few months.
Generous discounts retailers have offered and the supply of products returning to normal levels after the pandemic also contributed to the new record in online sales. For example, biggest sales were seen in toys, which offered an average discount of 33.8%.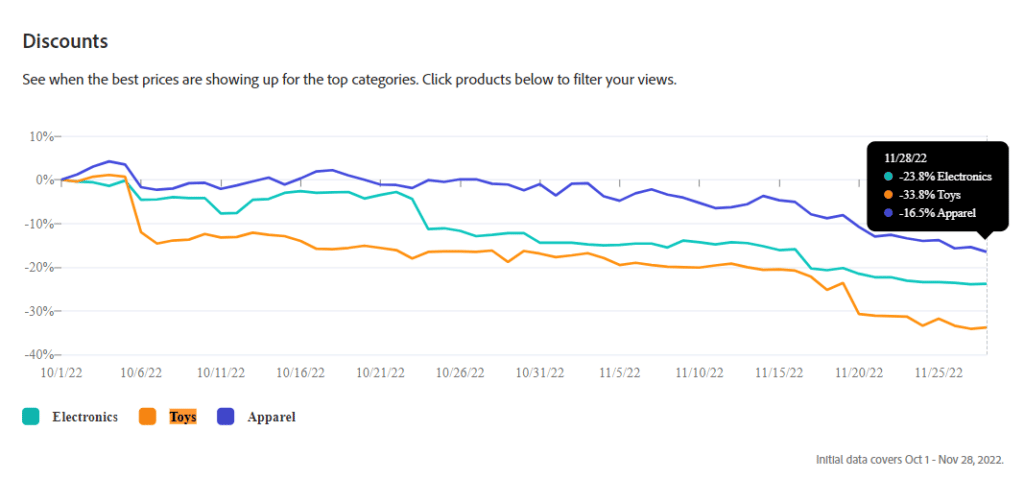 "With oversupply and a softening consumer spending environment, retailers made the right call this season to drive demand through heavy discounting," said Vivek Pandya, lead analyst at Adobe Digital Insights. "It spurred online spending to levels that were higher than expected, and reinforced e-commerce as a major channel to drive volume and capture consumer interest."