TikTok strongly opposes a Forbes report alleging that its parent company ByteDance wants to use the social media app to monitor the personal location of some specific American citizens.
Earlier on Thursday, Forbes reported that ByteDance's Internal Audit and Risk Control department planned on surveilling at least two U.S. citizens who had never had an employment relationship with the company. "It is unclear from the materials whether data about these Americans was actually collected; however, the plan was for a Beijing-based ByteDance team to obtain location data from U.S. users' devices," Forbes reported.
"Internal materials reviewed by Forbes show that senior executives, including TikTok CEO Shou Zi Chew, have ordered the team to investigate individual employees, and that it has investigated employees even after they left the company," Forbes said.
Forbes said its report was based on materials it reviewed, but didn't include details on the nature and purpose of the planned surveillance referenced in the materials in order to protect sources.
In a series of tweets, TikTok said that "Forbes chose not to include the portion of our statement that disproved the feasibility of its core allegation: TikTok does not collect precise GPS location information from US users, meaning TikTok could not monitor US users in the way the article suggested.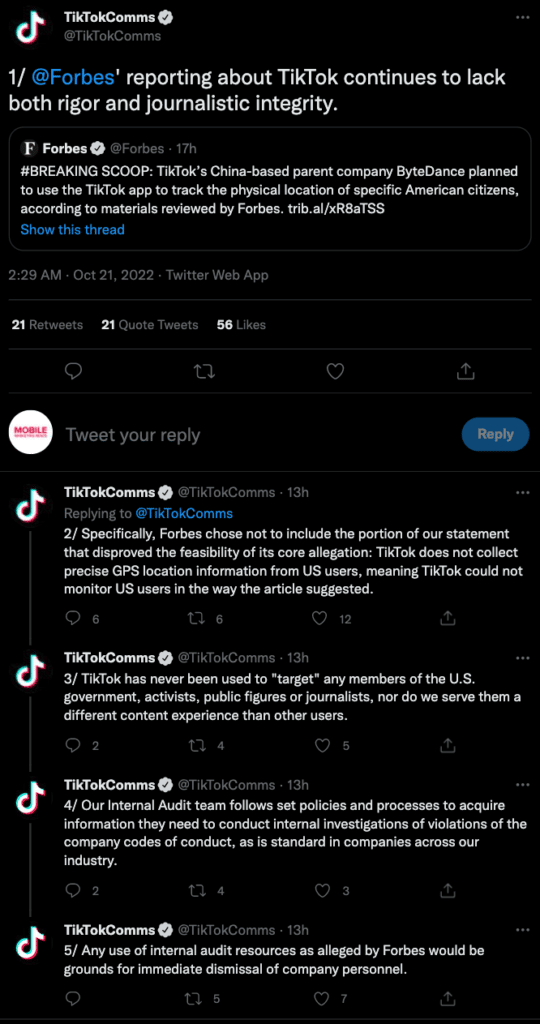 "TikTok has never been used to "target" any members of the U.S. government, activists, public figures or journalists, nor do we serve them a different content experience than other users," TikTok said.
Asked for a response by Variety, Forbes spokesperson Bill Hankes said, "We are confident in our sourcing, and we stand by our reporting." The Forbes article was written by Emily Baker-White, who disclosed in the piece that she previously held "policy positions at Facebook and Spotify."