According to Sensor Tower, Netflix video games have surpassed 13 million downloads worldwide across the App Store and Google Play. 
Netflix has released 23 mobile games from November 2021 to date, featuring exclusive titles, IP links, new titles, and updated remakes of old titles. The company said it plans to increase this number to 50 by the end of 2022. 
Per the analysis, the most downloaded Netflix mobile game to date is Stranger Things 1984, which has nearly 2 million downloads. Netflix Asphalt Xtreme is in 2nd place with 1.8 million downloads, while Stranger Things 3: The Game is in 3rd place with 1.5 million.
Sensor Tower notes that these estimates do not include downloads of the original release of Stranger Things: The Game from BonusXP, which generated 13.8 million downloads prior to its removal from the App Store and Google Play in 2021.
The analysis found that, since November 2021, downloads of Netflix games have ramped up to more than 1 million per month.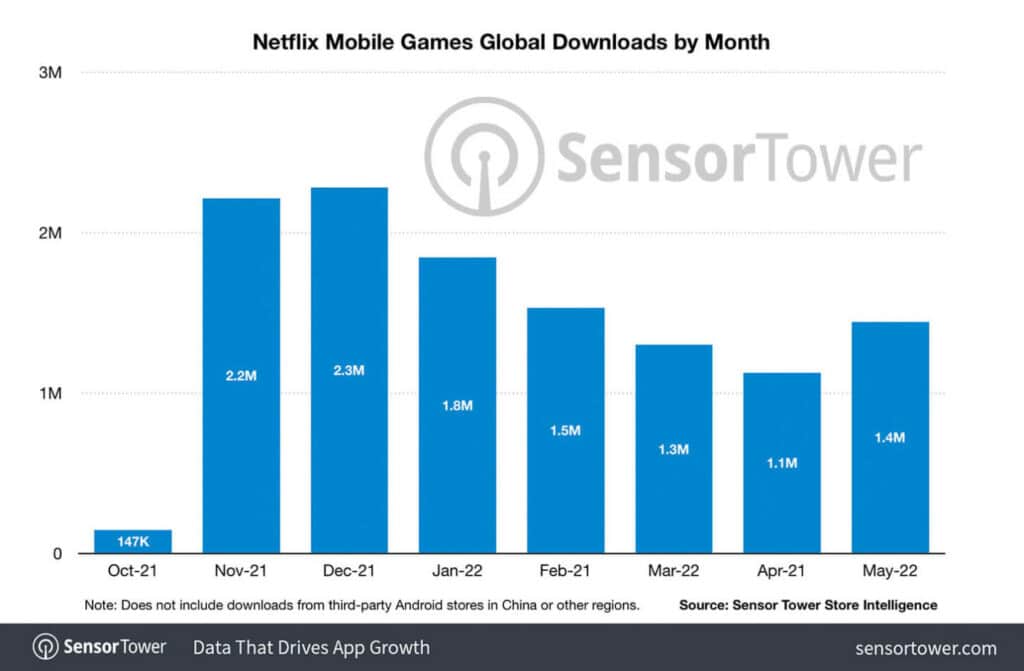 The streaming giant, which has released many games to this day, has also made some acquisitions in the game vertical for in-house development. In September 2021, Netflix acquired Oxenfree developer Night School Studio. Sensor Tower says Oxenfree generated 2.1 million downloads and accumulated $1.8 million from player spending on mobile. Night School Studio's another title Mr. Robot:1.51exfiltrati0n.ipa, on the other hand, generated 56,000 downloads and $247,000 in revenue on mobile prior to its removal in 2019. 
The streaming giant also acquired Finnish mobile game developer Next Games in March this year. Sensor Tower finds that the game studio has generated 43 million installs and approximately $187 million to date from its portfolio of mobile games including The Walking Dead: No Man's Land.