The Internet Advertising Bureau's (IAB) new annual report revealed that following a record-breaking 35% gain in 2021, internet advertising revenue growth slowed down to 10.8% last year, hitting $209.7 billion.
According to the Internet Advertising Revenue Report, while the first two quarters of 2022 saw growth of 21.1% and 11.8% respectively, the growth slowed to 8.4% and 4.4% in the third and fourth quarters of the year, likely due to various challenges such as the global economic uncertainty and regulatory changes.
The report showed that advertisers kept diversifying their digital spending in 2022. Among all the formats, digital audio saw the largest growth, up 20.9% to $5.9 billion, and it was followed closely by digital video at 19.3%, increasing $7.6 billion to $47.1 billion.
Search continued to hold the largest share of the total digital ad revenue, and experienced a 7.8% Y/Y increase to a new record of $84.4 billion. Display, the second-largest format by share, saw a 12% growth in revenue, which reached $65.5 billion.
Programmatic ad revenues, on the other hand, jumped 10.5% to $109.4 billion. When compared to the previous years, there was a slowdown in growth in social media revenue, partly because of Apple's privacy changes that now require developers to obtain user consent to track their data and device. Social revenue increased $1.8 billion YoY during the first six months of 2022, but only $300 million in H2.
Meanwhile, mobile revenue increased by 14.1% YoY to a new record of $154.1 billion in 2022, accounting for 73.5% of the total digital advertising revenue. The IAB expects a further growth for mobile thanks to the rising demand for video and podcast content, the expansion of the 5G technology, and the latest developments in VR and AR advertising.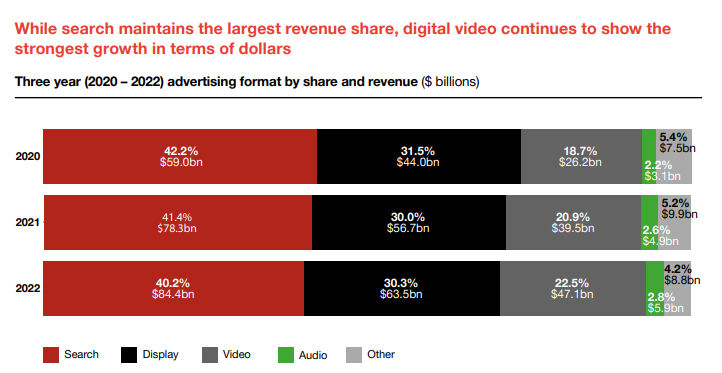 Feel free to check out the Internet Advertising Bureau's report for more information.