Mobile app technology company Applovin's stock has dropped 29% since its trading debut after the company and KKR & Co. raised $2 billion in an initial public offering. The shares, priced in the IPO at $80, stands at about $65.20 in New York.
According to data compiled by Bloomberg, AppLovin is the worst performing IPO of its size, and just one of two U.S. listings that raised at least $2 billion this year to now be trading below its offering price.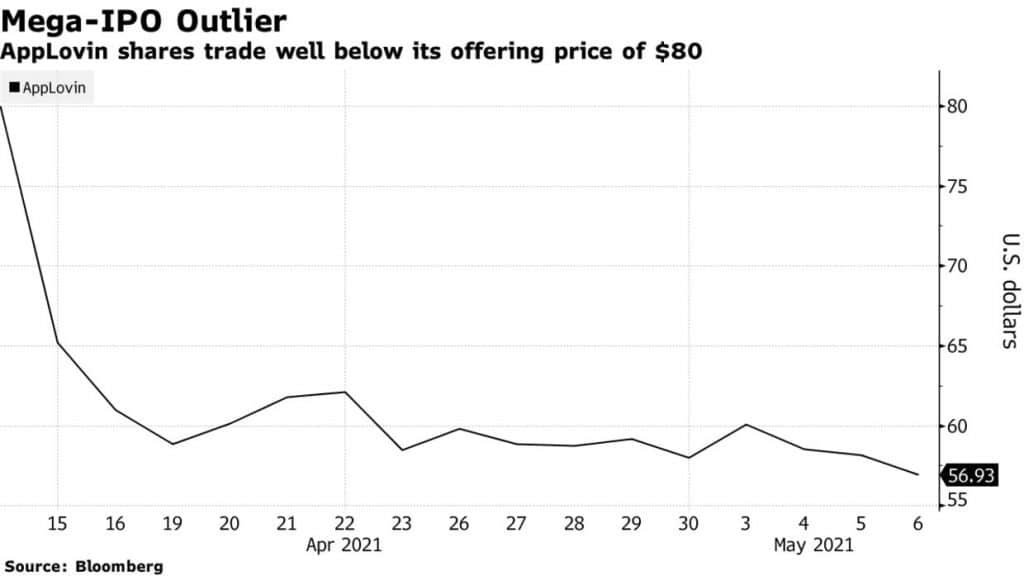 According to Bloomberg Intelligence, the stock's post-IPO decline also brought AppLovin's valuation back in line with its ad-tech and mobile-game peers. The company plans to report its quarterly results later next week.
AppLovin's 2020 revenue was $1.45 billion, up 46% year-over-year. Back in 2020, AppLovin announced the acquisition of Machine Zone and at the beginning of February it announced the acquisition of mobile measurement company Adjust.
Bloomberg says, AppLovin, now, is set to receive a wave of initiations from analysts at underwriting banks. The list of banks that may issue coverage of AppLovin include Morgan Stanley, JPMorgan, BofA, Citi, Credit Suisse, UBS, Oppenheimer, Stifel, Truist and William Blair.