Apple has rolled out two new features to let app developers get the most out of App Store product pages: Product Page Optimization and Custom Product Pages. First announced at WWDC in June, the new two features will allow developers to test their app's product pages in the App Store.
Product Page Optimization lets developers compare different app icons, screenshots, and app previews on their App Store product page to find out which one gets the best results. Alternate versions of a product page (called "treatments") will be shown to a percentage of people on iOS 15 and iPadOS 15 or later, who are selected at random.
People who see a particular treatment will see the same one across the App Store for the duration of the test. If someone downloads an app from a treatment that has an alternate app icon, this icon will also display on their device. Like the original product page, the metadata in the treatments can appear on the Today, Games, and Apps tabs, as well as in search results.
When creating a test in App Store Connect, developers are asked to provide a reference name and select the number of treatments, traffic proportion (% of people who will be selected at random to be shown a treatment instead of the original App Store product page), and localizations.
"You'll get an estimate of how long it might take for your test to reach your desired improvement in conversion rate based on recent traffic to your app's product page. One test can be active at a time and you won't be able to change it once it's started. A test runs up to 90 days, unless you choose to stop it or release a new app version." Apple says.
The results will appear in App Analytics.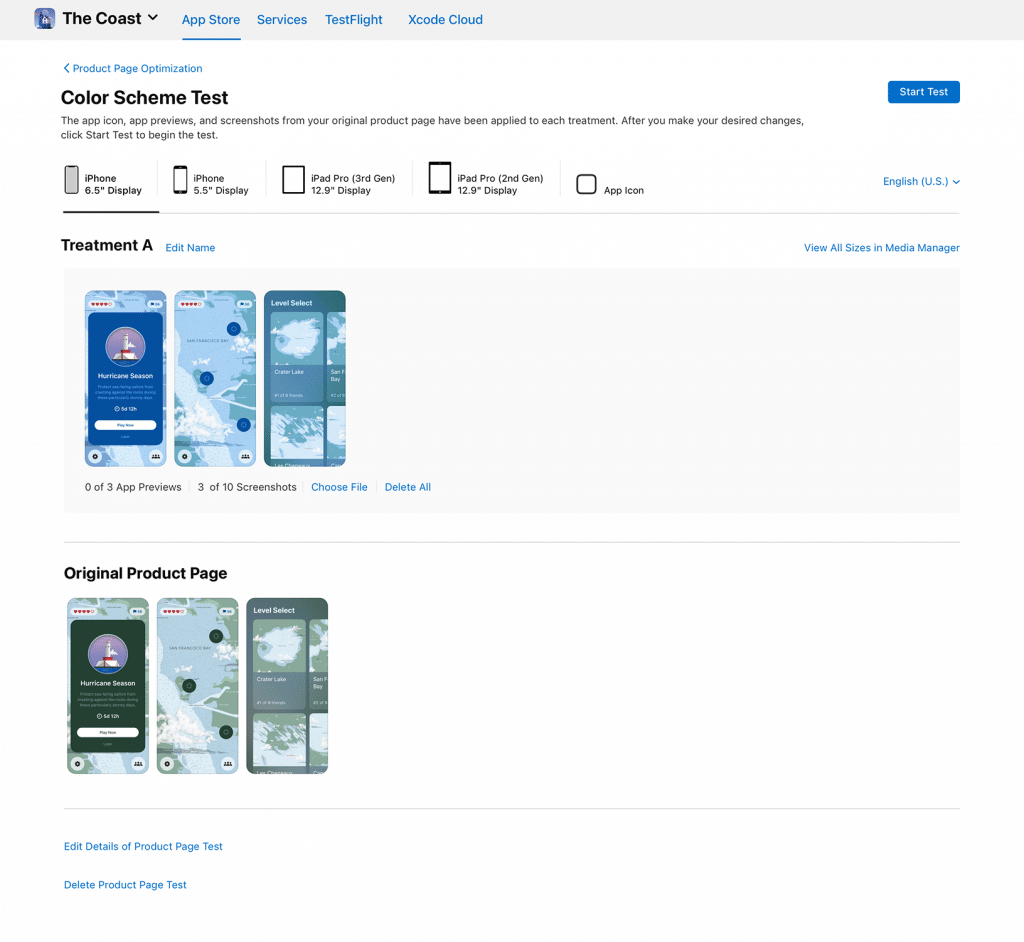 With Custom Product Pages, another new feature released by Apple, developers can create additional versions of their App Store product page to highlight specific features or content — such as a particular sport, character, show, or gameplay feature — , discoverable through unique shareable URLs. It is designed to reach out to different audiences through unique URLs.
Those pages can also be used to showcase seasonal or culturally relevant content. Each custom product page can include screenshots, promotional text, and app previews that are different from those on the default product page.
"Custom product pages can have different screenshots, app previews, and promotional text — and are fully localizable — so you can showcase a particular sport, character, show, gameplay feature, and more." Apple adds.
Once created, custom product pages' unique URLs can be used in marketing efforts. For example, you can promote a sports team in an email campaign and link to the custom product page that highlights that team. The unique URL adds a new product page ID parameter to the default product page URL. Ad networks can also use custom product pages in StoreKit-rendered advertisements.
Apple also announced that earlier next year developers will be able to use custom product pages to create ad variations with Apple Search Ads. Custom product pages will be available to select right from the Apple Search Ads account, letting developers create more relevant ads for different audiences.