Tech giant Apple announced on Monday that it will soon increase App Store prices for apps and in-app purchases (other than auto-renewal subscriptions) in multiple European and Asian markets.
Starting October 5, the changes will take effect in Pakistan, Poland, Egypt, South Malaysia, Korea, Japan, Sweden, Chile, Vietnam and all the markets using the euro as their currency.
While the iPhone-maker didn't disclose the reason behind the increase, depreciation of currencies against the US dollar seems to be the main factor. Earlier this year, the company also raised prices in Ukraine, Austria, and 6 other countries.
Meanwhile, each market will see App Store prices going up at different rates. Prices in Japan, for instance, have been raised by nearly 30-35%, while the increase is around 8-10% in European countries, depending on the subscription model.
''In Vietnam, these increases also reflect new regulations for Apple to collect and remit applicable taxes, being value added tax (VAT) and corporate income tax (CIT) at 5% rates respectively,'' the company said.
Here you can find the new prices for each market.
After the changes take effect, Apple will update the Pricing and Availability section of My Apps. The company also said that developers can adjust their prices using App Store Connect.
The announcement arrives just days after Apptopia revealed that in-app purchase prices on the US App Store jumped 40% Y/Y on average, while Google Play prices grew only 9%.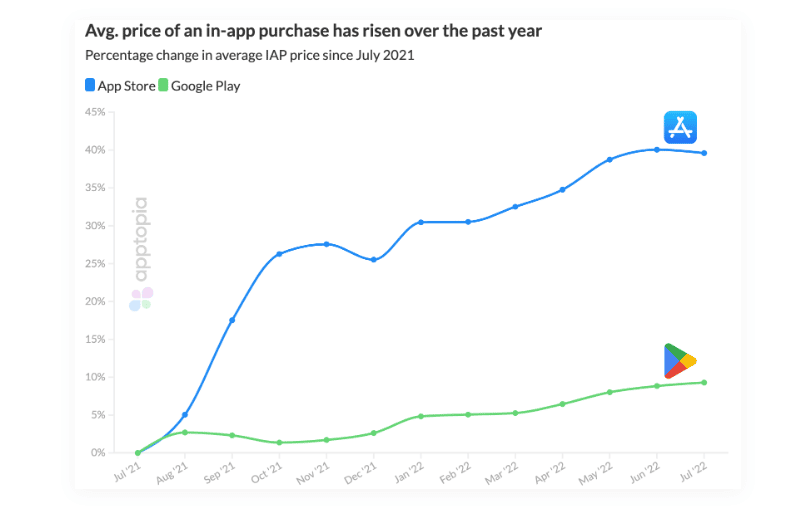 The company will also host an online event on Wednesday to introduce its new App Store ad slots.