While many names from the world of show and art continued to participate in the NFT world, which was mobilized with the sale of Beeple's work for $69 million in the past months, the social media platform TikTok did not remain indifferent to this trend.
ByteDance's popular app, which just crossed 1 billion monthly active users, is counting down the days to present its own NFT collection, leveraging content from some of its top creators on its platform and having a strong presence on social media.
---
Also Read: Twitter adds Bitcoin tipping, plans to support NFT authentication
---
The collection, which the platform calls TikTok Top Moments, consists of 6 culturally significant TikTok videos created by Lil Nas X, Rudy Willingham, Bella Poarch, Curtis Roach, Brittany Broski, FNMeka, Jess Marciante, and Gary Vaynerchuk.
Announcing that they will make their NFTs available on Ethereum and will be powered by Immutable X, which uses StarkWare's innovative technology to create the first carbon neutral Layer-2 scaling solution for Ethereum, TikTok will start the drop on October 6 with a collection from Lil Nas X and will continue on through the end of the month.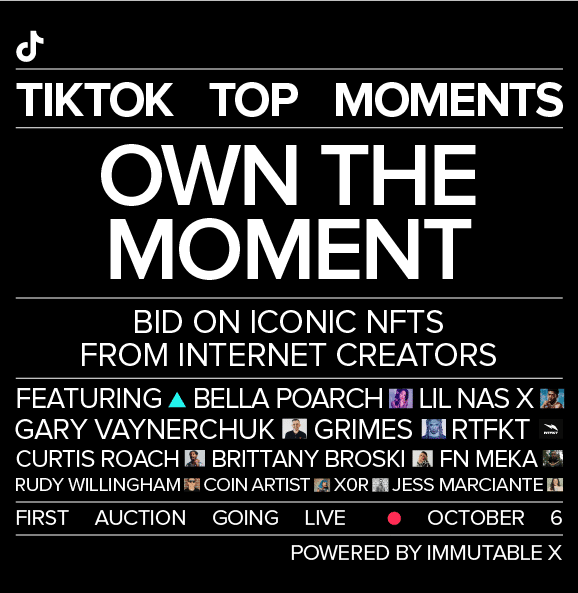 "Building on our commitment to helping creators achieve their goals in the growing creator economy, TikTok NFTs provide a way for creators to be recognized and rewarded for their content, and for fans to own a culturally-significant moment on TikTok." the company said in a statement.  
"The one-of-one NFTs will be made available on Ethereum, and the limited edition NFTs will be powered by Immutable X. A series of weekly drops will take place through the end of the month, after which the NFTs can be minted and traded with zero gas fees on the Immutable X Layer-2."