Although Pinterest posted its best quarter results in 4 years, its shares dropped nearly 20% on Thursday as the social media company failed to meet analysts' expectations for user growth.
Pinterest's revenue more than doubled and reached 613 million in the second quarter of 2021, up 125% from 272 million generated in Q2 2020.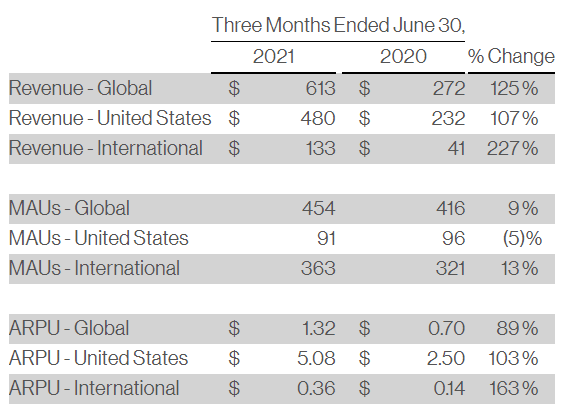 In Q1, Pinterest's MAU grew 30% year-over-year to 478 million. However, the company reported 454 million monthly active users for the second quarter ended June 30, which increased by only 9%, failing to meet analysts' forecast of 482 million.
---
Also Read: Pinterest Revenue and Usage Statistics
---
In addition, U.S. MAU dropped 5% (from 96 million to 91 million) in Q2 and 7% as of July 27, the company reported.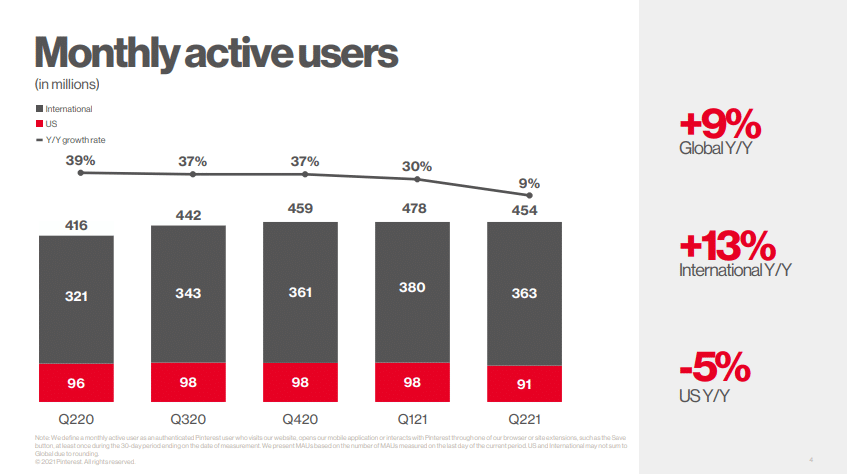 Following the news, at least 8 brokerages lowered their price target on the Pinterest stock which dropped to $57.60 in pre-market trading, according to Reuters which wrote that the company could lose $9 billion in its $36.8 billion market cap if the losses continue.
The company also said that the decrease in U.S. MAU is likely because people in the country who previously used the platform for DIY projects and crafts under lockdowns now spend less time at home after the lift of restrictions.
"The pandemic was an unprecedented and unique global event," said Pinterest CEO Ben Silbermann during the earnings call. "In past earnings calls, we talked about how stay-at-home orders significantly increased usage of Pinterest. And for the past year, we've highlighted how people came to Pinterest for inspiration to reinvent their lives during such a difficult time," he added.
"Now, as the world opens up, we're seeing the similar effect in the opposite direction that impacted our growth — particularly because some of the core use cases we see on our platform are less common in 2021 than they were a year ago. That shifting behavior in Q2 impacts engagement," said Silbermann.
The company also announced that it won't be publishing guidance on Q3 2021 MAUs due to the uncertainty caused by the ongoing Coronavirus pandemic.