Bachelorette party planning app BACH announced on Thursday that it has raised $9 million in a Series A funding round led by Pritzker Group Venture Capital.
The round, which has brought BACH's valuation to $17 million, also saw participation from Corazon Capital, Freestyle VC, Oversubscribed Ventures and its other institutional partners.
The company first launched its mobile app in 2020 to streamline the process of group event organizations. It offers a one-stop solution for friend groups to explore, plan and book events in a much easier way. Once you join the app, you can invite your friends to discuss trip ideas by chatting with them or launching polls, and choose the best destination that fits your interests and budget the most. Once you finalize the details of your trip, you can use the app's expense tracking feature to monitor your costs, and its city guides to find out about the best experiences close to your destination.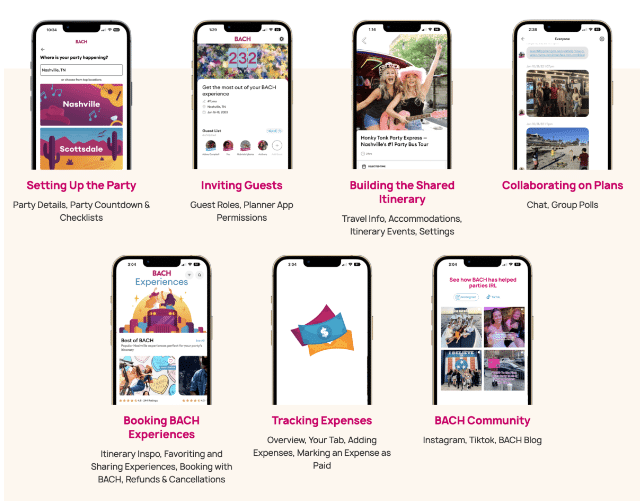 In a statement to TechCrunch, BACH Co-founder and Chief Executive Officer Mike Petrakis said that the app has been downloaded by 2 million users so far and the number of parties organized with it is on its way to reach 500,000. The number of bookable experiences on the app also rose from 800 to more than 1,600 in the last 6 months, and the company aims to bring it to 3,000 this year, he added.
During the first half of 2023, the company also plans to launch the desktop version of its mobile app, create more content to give users more inspiration, and launch more cities and new marketplace verticals to provide them with more travel options.
"We will be planting our roots for expansion beyond bachelorette parties with the funding," the CEO said. "The launch of Bach on web and getting us on the internet will be the first step toward doing this. The idea is two-fold: let's dominate this space first and then let's start to branch out to become the destination for any group that wants to go have fun on a weekend. We want to be the platform you think about when you want to book something fun."