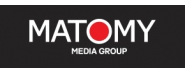 Matomy is a global media company that offers specialized performance and programmatic solutions to their advertising and media partners.
It was found in 2007. By the year of 2014, it became a publicly traded company.
The aim of Matomy Media is to make sure that the partners have well understandings about the consequences that are exchanged between them. They focus on doing it with multi-channels.